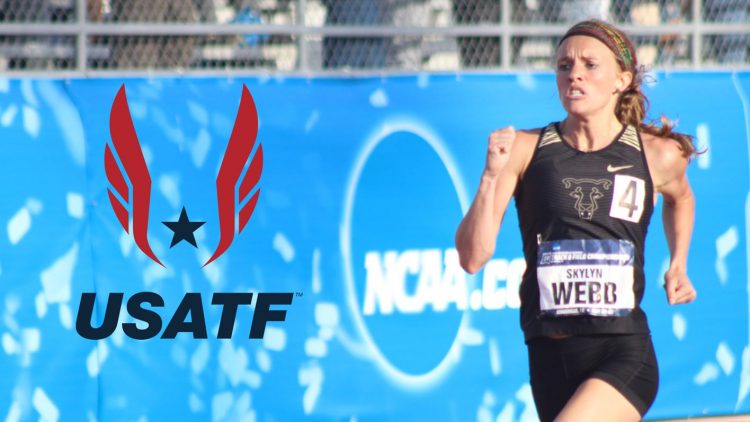 Editor's note: Skylyn Webb finished fourth in her heat and No. 21 overall with a time of 2:05.20 in the first round of the USA Track & Field Championships.
For the second consecutive year, Skylyn Webb will compete in the USA Track & Field Outdoor Championships. The meet will be held July 25-28 at Drake Stadium in Des Moines, Iowa.
"Skylyn had a picture perfect season this year winning four individual conference titles and two national championships," said Ross Fellows, head track and field coach. "I'm looking for her to go out and put the cherry on top at USA's. The goal is to compete and run a new career best. We will see how the chips fall, but she is a big meet competitor and she is as talented as anybody in the field."
Webb qualified to compete in the USATF Outdoor Championships 800-meter run by registering a time of 2 minutes, 3 seconds at the Music City Distance Carnival May 31 in Nashville, Tennessee. Webb is competing in a field of 42 collegiate and professional athletes.
"Competing in the USATF Championships is an indescribable experience," Webb said. "Just being in that atmosphere is incredible, and then to walk out on the track and compete against the best in the world is really what I work so hard for every day. Being there really is a manifestation of my goals and dreams and effort. I also cannot thank UCCS, Coach Fellows, and Coach (Dillon) Schrodt enough for continuing to support me throughout the summer. I am so proud to wear the Mountain Lion jersey one last time."
The first round of the 800-meter run will be at 5:47 p.m. MDT, July 25. The top 16 athletes will advance to the semifinals at 5:18 p.m. July 26, and the top eight will compete in the finals at 6:12 p.m. July 28. NBC Sports Gold will cover the entire championships, while NBC Sports Network will broadcast the semifinals July 26 and NBC will air the finals July 28.
Webb was named the RMAC Woman of the Year and a Google Cloud Academic All-American after her final collegiate season ended this spring. She is working on her master's degree in clinical psychology.
Previous stories:
Webb makes history at NCAA Division II Outdoor Championships
Webb national athlete of the week after breaking DII 800-meter record