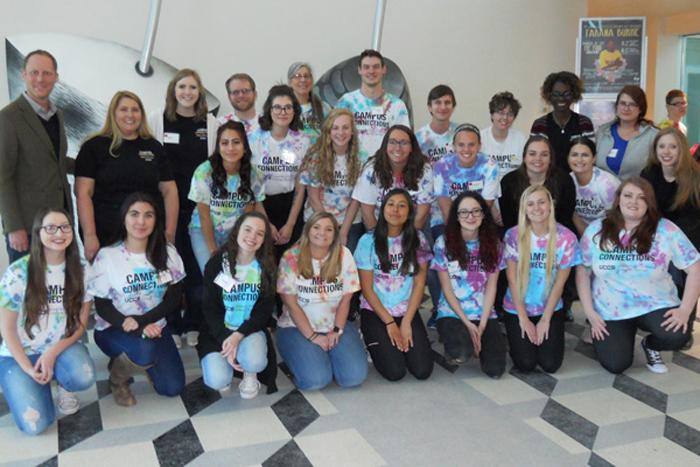 Eighteen youth came to the UCCS campus to work on goals such as decision-making skills, academic performance and self-esteem, and worked with UCCS student mentors and counseling interns in the first semester of the Campus Connections program.
"Campus Connections was a roaring success," said Joe Wehrman, Campus Connections director and chair of the Department of Counseling and Human Services. "We had a great semester helping support youth and could not have done it without our wonderful partners at District 11. It is clear they have a commitment to developing the whole child. Our undergraduate mentors and graduate students provided a high quality supportive and growth promoting experience throughout the program."
During the 12-week program, children between 11 and 15 years old had access to counseling support, family-style meals and pro-social activities. Each youth was paired with a UCCS undergraduate student for mentorship, academic and career support. Nearly 300 hours of individual homework support was provided during the program. Faculty and graduate students were present throughout the experience to provide training and support. Faculty provided more than 40 hours of ongoing training and on-site supervision for undergraduate mentors. Youth were referred through community partners such as school districts and the juvenile justice system.
"What makes me excited to come to Campus Connections is getting to hang out with my friends," one participant said. "Also, if I need to talk to someone, I can talk to the counselor and I can trust them."
Dean of the College of Education, Valerie Martin Conley stated, "The development of Campus Connections has provided the College of Education a great opportunity to partner and give back to the community. It also sets the stage for the successful launch of our new Bachelor of Arts Degree in Human Services."
The 19 UCCS student mentors came from the human services minor and from students majoring in programs such as psychology, sociology, communication and English. Students in the new human services bachelor's degree starting in fall 2019 will have the opportunity to participate as mentors as part of their overall experience to address workforce needs in southern Colorado. To become a mentor, visit the Campus Connections website for further program details as well as the program application information.
The UCCS Campus Connections program was adapted from similar successful programs at Colorado State University and the University of Northern Colorado. Campus Connections is operated through the Department of Counseling and Human Services in the UCCS College of Education.