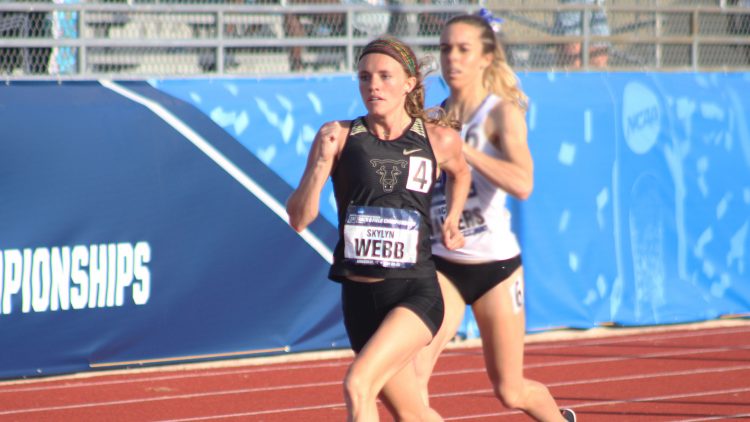 Skylyn Webb, a three-time national track and field champion and outstanding graduate student in clinical psychology, is the 2019 Rocky Mountain Athletic Conference Woman of the Year.
This award honors graduating student-athletes who have distinguished themselves throughout their college career in areas of academic achievement, athletic excellence, community service and leadership among the 16 member schools of the RMAC.
"My time as a scholar and athlete has pushed me to allow myself to fearlessly pursue my potential," Webb said. "While also recognizing the way I can positively impact the world as a result of the insights I have gained."
A Delta, Colorado, native, Webb will also be nominated for the 29th Annual NCAA Woman of the Year Award. Within the upcoming months, the selection committee will determine the finalists in each division, and the 2019 NCAA Woman of the Year will be announced October 20.
"There is no one more deserving in my opinion than Skylyn for this prestigious award," said Ross Fellows, head track and field coach. "She has shown excellence in everything since the day she arrived on campus. Sky is the complete package in terms of personality, character, drive, skill and humility. This once again proves she is one of the best student-athletes who has walked our campus to date."
Webb will be honored at the 2019 RMAC Hall of Fame and Awards Banquet on Friday, July 12 at the Colorado Springs Marriott. To purchase tickets and for more information, visit www.RMACSPORTS.org/HOF2019.
Athletic career
Webb became one of the most decorated student-athletes in school history in her two seasons on the track and field team. In her first season of 2017-18, she was the RMAC champion in the 400-meter dash and 800-meter run and helped the Mountain Lions win their first indoor conference team championship in program history. Webb was named RMAC Women's Track Athlete of the Year and earned All-America honors with a third-place finish at the national championships in the 800-meter run. She won another 400-meter conference championship in the outdoor season, earned track athlete of the year again and automatically qualified for the national championships in the 800-meter run. Webb clocked a new meet and championship record of 2:02.47 to become the first women's outdoor track and field student-athlete at UCCS to win a national championship.
During the 2018-19 indoor season, Webb continued to dominate the competition by taking home gold in the 400-meter dash and 800-meter run at conference championships, and won her third straight RMAC Women's Track Athlete of the Year award. She went on to claim the 2019 indoor 800-meter run national championship.
In her final outdoor season during spring 2019, Webb earned RMAC championships in the 800-meter and 1,500-meter run and her fourth consecutive RMAC Women's Track Athlete of the Year award. She helped UCCS win its first outdoor team championship in program history in the process. On May 25, Webb became the fifth female student-athlete in NCAA Division II history to win the 800-meter outdoor national championship back-to-back years.
In her athletic career, Webb won three national championships, was a four-time First Team All-American, nine-time U.S. Track & Field and Cross Country Coaches Association All-Region selection, six-time RMAC champion, four-time RMAC Women's Track Athlete of the Year and an eight-time All-RMAC athlete. She holds six program records for the indoor and outdoor 400-meter dash, 800-meter run and 4×400-meter relay.
Academic career
Webb is currently working on a clinical psychology master's degree and was named the department's outstanding MA student during the annual College of Letters, Arts and Sciences Awards Ceremony May 9. In her undergraduate work, Webb posted a nearly perfect 4.0 GPA in her undergraduate psychology degree with a minor in English writing at Fort Lewis College in Durango, Colorado.
Webb earned CoSIDA Google Cloud Academic All-District honors and is on the ballot for Academic All-America honors. She is a two-time Academic All-RMAC First Team member and received the athletic department's Thomas F. McLaughlin Award in 2019 presented to the UCCS student-athlete who demonstrated the highest levels of academic and athletic achievement, and leadership.
Webb is working with Chip Benight, professor of psychology and founder of the Trauma, Health and Hazards Center, on a randomized controlled trial examining the potential effectiveness of aerobic exercise in the treatment of posttraumatic stress disorder. After she earn's her master's degree, Webb plans to continue her work to obtain a Ph.D. in clinical psychology.
At Fort Lewis, Webb was the 2016 most outstanding undergraduate student in psychology and named a William O. Bowman Scholar as the psychology student most likely to go on to contribute in the field of psychology.
Community service
Webb has worked to better the community and campus through community service with various organizations, starting in 2014 with Shoes for Shiprock where she collected gently used athletic shoes to donate to the Shiprock reservation in New Mexico. The following year in 2015, Webb volunteered with Food for Thought to package and deliver food to local school districts for children in need. Then in 2017, she worked with SLV Global as a mental health intern in Sri Lanka where she provided aid to hospitals and community centers in need.