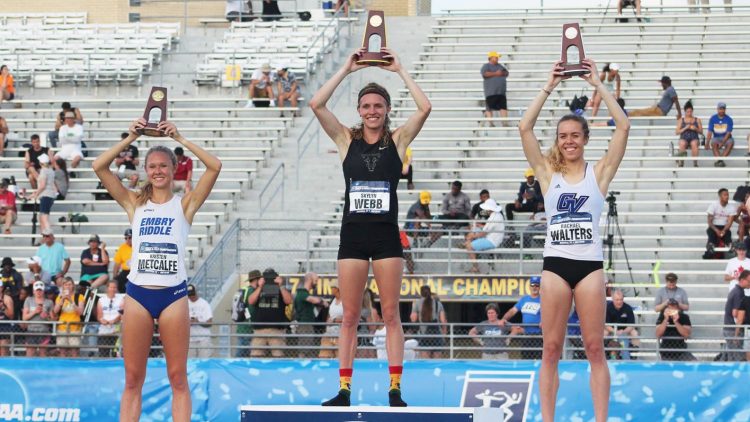 Skylyn Webb repeated as the outdoor national champion in the 800-meter run to lead UCCS at the NCAA Division II Outdoor Track & Field Championships May 23-25 at Javelina Stadium, hosted by Texas A&M University, Kingsville.
Webb had the fastest time in the preliminaries and was in a battle during the finals with Grand Valley State University's Rachael Walters through the first 600 meters. Webb pulled away in the last 200 meters and ended up with a more than one second margin of victory at 2 minutes, 6.96 seconds to become the fifth female student-athlete in Division II history to win back-to-back national championships in the event. She ended her collegiate career with three national championships, four first team All-America honors, four RMAC Track Athlete of the Year awards, four all-region selections from the U.S. Track & Field and Cross Country Coaches Association, and eight All-RMAC First Team honors.
Kaija Crowe set a program record with 5,036 points in the heptathlon and finished eighth for All-America honors. She joined teammate Hannah Meek as the pair both earned All-America accolades in the long jump. Meek finished sixth in the nation with 19 feet, 10 1/4 inches in her first All-America award, while Crowe earned a second team accolade on a No. 12 finish with 19-6 3/4 inches.
Charlie Forbes, the indoor 60-meter hurdle national champion, qualified for the finals in the 110-meter hurdles but was unable to race due to an injury suffered in Friday's preliminaries.
Kayla Zink finished No. 17 in the 100-meter dash with 11.79 seconds. Will Ross made his first career NCAA championship appearance and finished No. 19 in the triple jump with a mark of 48-6 1/4.
The Mountain Lion women finished in a tie for No. 17 in the team standings with 14 points. The women's team also won its first RMAC outdoor championship this season.