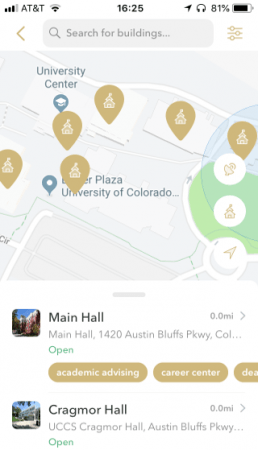 Nick Lockwood, director of orientation and new student outreach, and Hailey Santonastaso, orientation program coordinator, noticed that new students are increasingly reliant on their phones during the student orientation experience. Students take photos of presentation slides to reference later, sign up for academic departments' Facebook pages, pull up maps of campus and more. 
According to Lockwood and Santonastaso, "We wanted to adapt the [orientation] program to fit the learning styles and needs of the students." 
With the support of the orientation team, Lockwood and Santonastaso designed the UCCS Mobile Orientation App to give students a centralized location on their phones to access orientation materials.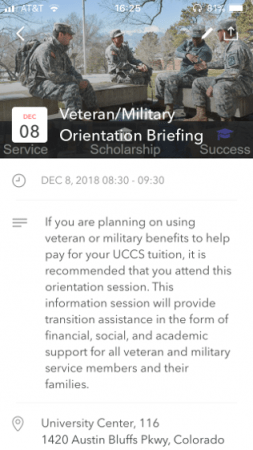 At the annual CU Innovation and Efficiency Awards, the team's app took first place – and the $1,500 University Controller's Award for Excellence. 
Lockwood and Santonastaso originally discovered that other universities were developing mobile apps for new student orientation at a conference. The two reached out to peer institutions to learn about the development process and determine their priorities for a UCCS orientation app.
According to Lockwood and Santonastaso, "We put a high priority on simplicity, accessibility, and university branding." 
Professional development for their student staffers was also a factor. "It was important for us to incorporate student involvement and perspective in the process. Orientation student staff joined us from the beginning initial design phases, meetings, and trainings, and played a significant role in the development and maintenance of the app." 
The two hope that the new app helps to ease some of the pain points inherent in transitioning into a new college environment. 
"We realize that orientation can be a stressful and overwhelming process," the two say, "and it is our hope that the mobile app has helped alleviate stress and uncertainty while promoting a positive introduction to campus resources and support."