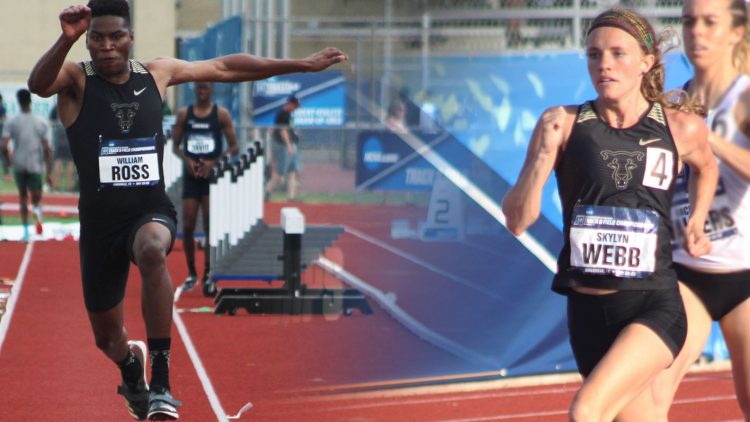 Skylyn Webb and Will Ross earned recognition for excellence on the track and in the classroom as the College Sports Information Directors of America announced the 2018-19 Google Cloud Academic All-America® Division II Men's and Women's Track/Cross Country teams. Webb received First Team recognition while Ross was honored on the Third Team.
Recently named the RMAC Woman of the Year, Webb continues to add to her long list of accomplishments and accolades in her two years as a Mountain Lion. The four-time First Team All-American can now include Academic All-American First Team to her collegiate awards. Webb has a 3.51 grade point average as a clinical psychology graduate student and is a two-time RMAC All-Academic First Team honor. She was a three-time national champion in the 800-meter run between the indoor and outdoor seasons and became the fifth student-athlete in NCAA Division II history to earn back-to-back national championships in the outdoor season.
Ross has a 3.91 grade point average in electrical engineering. In a season full of career firsts, Ross was selected to the RMAC All-Academic First Team for the first time in both the indoor and outdoor seasons for 2018-19. Ross was a national provisional qualifier and  narrowly missed the cutoff for a national championship berth, but bounced back during the outdoor season to become RMAC champion in the triple jump and earn a spot at the NCAA outdoor championships. The Colorado Springs native wrapped up his junior season as a four-time All-RMAC honoree and three-time U.S. Track & Field and Cross Country All-Region selection.
Ross and Webb become only the second Academic All-Americans from the men's and women's track & field teams in school history after Alex Colvin for the women's program in 2013 and Ryder Tam for the men's program in 2015. Ross and Webb are the third and fourth Academic All-Americans for UCCS in the 2018-19 academic year with Anna Gregg in women's soccer and Alex VonHolle in men's soccer.