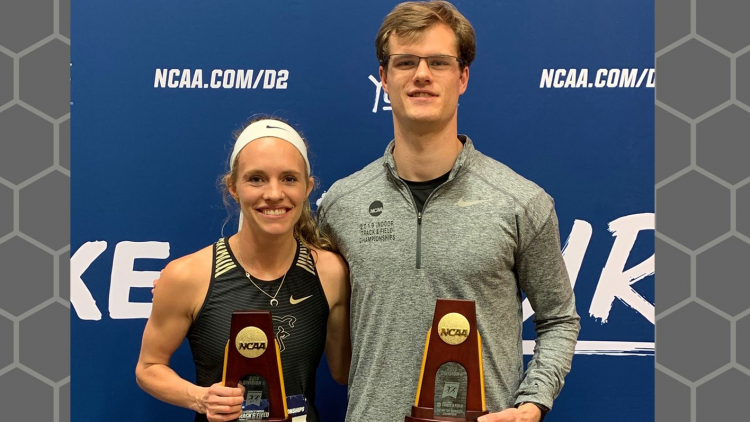 Skylyn Webb and Charlie Forbes won the first indoor national championships for UCCS as the Mountain Lions collected 10 All-America titles at the 2019 NCAA Division II Indoor Track and Field Championships March 8-9.
Webb set a new championship record with 2 minutes, 4.94 seconds to win her second overall national championship in the 800-meter run. She was the 2018 outdoor national champion and finished third at the 2018 indoor championships. Webb battled with Grand Valley State University's Rachel Waters during the final 200 meters and maintained her advantage in the final stretch of the race to win the title.
Forbes won his national championship with 7.89 seconds in the 60-meter hurdles, edging out Central State University's Juan Scott by one-hundredth of a second. His time marked a new program record. Forbes is the first national indoor champion for the Mountain Lion men's program and the second overall with Moses Tum's national title in the outdoor 1,500-meter run in 2005.
Kaija Crowe earned two All-America titles in the pentathlon and long jump. She finished fifth in the pentathlon with 3,801 points, an improvement from her seventh-place performance as a freshman in 2018. Crowe also placed eighth in the long jump with 19 feet, 3/4 inches. Teammate Jada Carr also earned second team All-America honors in the long jump with a No. 11 finish in 18-7 3/4.
Kayla Zink finished fifth in the 60-meter dash with 7.44 seconds in the finals as one of three RMAC sprinters in the top eight. The women's distance medley relay team of Ellie Enderle, Dejah Glover, Maia Austin and Layla Almasri finished ninth in 11:53.94 to earn All-America second team awards.
The women tied for eighth in the team standings with 19 points in the first top-10 finish in program history. The men tied for No. 21 with 10 points for their best finish in history.
Both Mountain Lion teams will transition to the outdoor season March 16 at the Colorado State University-Pueblo Early Bird Invitational.