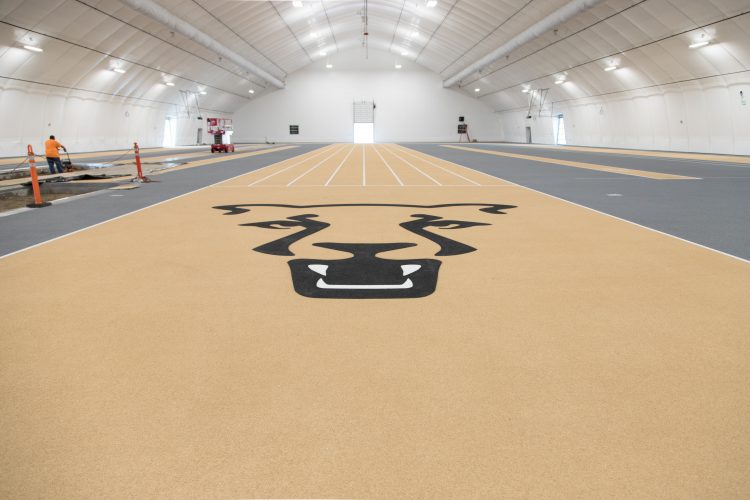 Mountain Lion Fieldhouse is expected to be complete by the first day of classes this fall.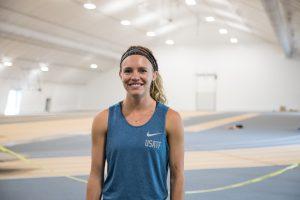 Skylyn Webb, clinical psychology graduate student and 2018 NCAA Division II Outdoor Track & Field National Champion, looks forward to seeing what a home facility will do for the team.
"After joining the team, I had really had no idea what was going to happen – I ended up training really hard and was able to win a national championship and compete at the USA Track & Field championships," Webb said. "Having this really makes the future dreams I have, which are pretty big, seem achievable because we have this top-of-the-line facility to train in everyday and get me and the team where we want to be."
The facility will host its first competition in the 2018-19 season. The track is 200 meters with eight sprint lanes, two long/triple jump pits and a pole vault pit on the infield of the oval. The facility also includes a large, caged area for the shot put and weight throw located on the south end.
The fieldhouse has been a dream for many for the last 15 years, according to Nathan Gibson, executive director, Athletics.
"To see this facility come to fruition and having a home for our track & field and cross-country programs, as well as a place for all of our sports to train, is huge," Gibson said. "There's a lot of things we're going to be able to do in here and I couldn't be more excited and happy with the way it's turned out."
Webb hopes to win another NCAA National Championship and for the women's team to win another RMAC Championship, then compete for USA Track & Field upon graduation this spring.
"It's really fun to be able to build a facility, but for me the best part is being able to see your student-athletes walk in here for the first time and compete for the first time," Gibson said. "I'm really excited to see that this fall."
Construction began on the baseball and indoor track facility in late June 2017 with a combined project budget of $13.3 million.  Bryan Construction is the general contractor for the facilities and DLR Group is the architect of record.