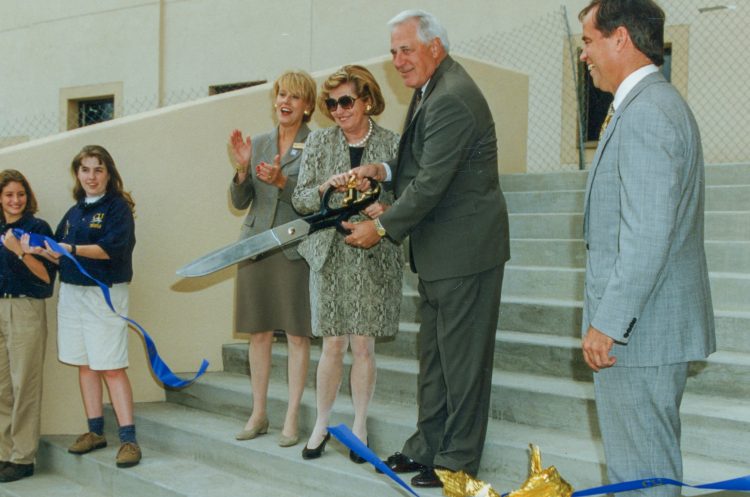 John C. Buechner, president emeritus of the University of Colorado, died July 28, 2018. He was 82.
Buechner served as CU's 18th president from 1995 to 2000. He was previously chancellor at CU Denver and a faculty member in the department of political science at CU Boulder. He was the first director of institutional relations at CU Boulder in the late '70s.
During his tenure, UCCS opened its first on-campus residence halls and expanded academic space by more than 50 percent with Columbine Hall in 1997. UCCS merged with the Beth-El College of Nursing in 1997 and separated graduate programs from CU Boulder in 1999. Campus enrollment grew more than 12 percent in the five-year period.
"We celebrate the successes UCCS experienced while John Buecher was president," said Chancellor Venkat Reddy. "Our thoughts and prayers are with Katie and the rest of the Buechner family during this difficult time."
In recent years, Buechner served on the Lafayette City Council. He also served as a member of the Colorado House of Representatives from 1972-74, mayor of Boulder from 1970-71 and a member of the Boulder City Council from 1967-76. Buechner also belonged to numerous community and civic organizations.
STATEMENT FROM UNIVERSITY OF COLORADO PRESIDENT BRUCE D. BENSON

John Buechner was a long-time friend who made a significant impact on the University of Colorado, our communities and our state. He had an abiding love for CU and made his mark on the university in many ways – as CU president, CU Denver chancellor and faculty member, and CU Boulder faculty member and administrator. He was also a dedicated public servant as a mayor, city council member and state legislator. John's specialty area was local government, and many Colorado communities benefited from his commitment and expertise. Marcy and I and the entire CU community share our deepest condolences with Katie and the Beuchner family.

Bruce D. Benson
President
FROM THE FAMILY OF JOHN C. BUECHNER

John had a great affinity for the University of Colorado. He spent over 50 years being associated with CU in a variety of roles including professor, administrator, chancellor, president and president emeritus. John spent virtually his entire professional career in the CU system. He took great pride in being associated with CU and worked untiringly in hopes of having a positive impact with students, staff, faculty and friends of the university. He believed that by providing an atmosphere and attitude of excellence, the university could provide not only a valuable education, but experiences and relationships to last a lifetime. To John, being a CU Buff was a lifetime distinction which he proudly displayed.