Editor's Note: This is the sixth and final piece in a series of profiles of students who are graduating this semester.
Justin McConnell persisted. For eight years, through financially tough times, after a car crash, through uncertainty.
"Sometimes I couldn't see light at the end of the tunnel," he said. "I felt like I'd be taking classes forever."
But soon, he'll not only be crossing the stage to receive his diploma but also standing on it as a Student Achievement Award winner to address his fellow graduates.
"It feels good," he said. "This semester I've gone down to three classes and my internship. I just picked up my graduation regalia – it's still so crazy to me to have those items in my hand."
McConnell, 26, will soon also have in hand his bachelor of science in business with an emphasis in marketing and minor in resource management. A degree he could not have imagined acquiring eight years ago when he enrolled for the first time.
UCCS was a natural enough choice. His mom graduated in 2002 after the military family landed in Colorado Springs. He graduated from James Irwin Charter Academy and toured UCCS with his high school classmates. He liked what he saw; he liked Colorado Springs.
He wasn't sure what he wanted to do, but thought he'd give engineering a shot. He didn't like that, so switched to biology. But in fall 2011, he ran into financial difficulty and dropped out to work. Except, he didn't "officially" drop out and so ended up with a semester of failed grades.
He wasn't sure he'd go back. But while working at Walmart for a year, McConnell met a co-worker who'd been in a similar situation. The person had dropped out to work, got a job a Walmart and was still there – 30 years later. That was not the future McConnell pictured for himself.
So he went back. But obstacles – first a car crash and then more financial difficulties – forced him to detour again. He dropped out – officially this time – and got a job as a procurement technician for a health care company. That got him interested in a business career, and gave him a definitive reason for going back to class.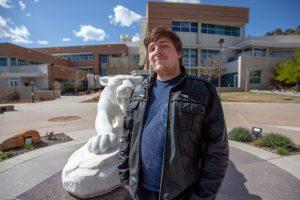 If he had it to do over, he said, he would not declare a major. "There's nothing wrong with being undecided," and taking basic courses and some electives to find your passion.
He returned to UCCS in August 2014 and the following year got an on-campus job in alternative media production at the Assistive Technology Lab, turning academic documents into different formats, such as braille or a screen reader for students.
"It's always fun to figure out what each student needs and a challenge to provide what they need," he said. "I love books and like being able to help students directly, to make a helpful impact in their education."
Because those technologies advance rapidly, McConnell says he got a chance to experiment with hardware and software in the lab.
He also is president for the campus chapter of the American Marketing Association and helped create the Friday night Mahjong Club, where students can play or learn the Japanese board game.
One of his proudest achievements during his years at UCCS, though, was the inclusion of some of his pencil and ink drawings in riverrun, the student literary and arts publication. He had one piece in the 2016 publication and two in 2017.
His creative side is what pushed McConnell to select marketing over economics for his degree. And someday, he might pursue a master's degree in something like graphic design.
But for now, he's done with the classroom and is looking for that first post-graduation job, which he hopes might be with an advertising agency.
"It's going to be weird not being here for awhile," he said. "There are a lot of awesome people here. My brother is going here, though, so UCCS still will be part of my life. And I've offered to help with mahjong nights."
— by Sue McMillin
— Photos by Jared Verner
Read earlier commencement profiles in this series here:
Commencement profile: Undocumented student perseveres to earn degree
Commencement profile: MPA student leaving his mark on west campus
Commencement profile: After homelessness, degree provides path to new life
Commencement profile: International student flourishes at UCCS
Commencement profile: Flexibility the key for student body president