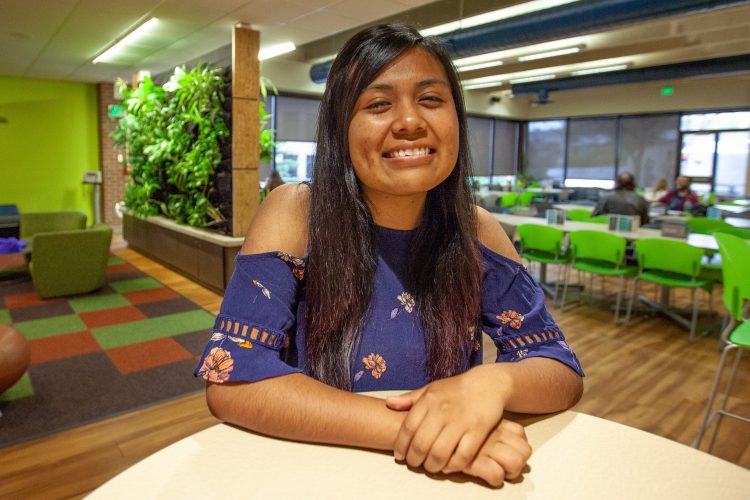 Editor's Note: This is the fifth in a series of profiles of students who are graduating this semester.
If you ask Nayda Benitez about who she is and what motivates her, some of the first words out of her mouth are "I'm an immigrant and I'm undocumented."
"Since I have been in college, as I transitioned to UCCS, I've come out of the shadows," she said. "I needed to disclose who I was and get help.
"In my freshman year, as I started talking about it, I became more confident about my identity and about myself. Being able to own my truth and who I am really helped me discover what I could do."
Here's the rundown: Her family came to Colorado Springs from Puebla, Mexico, when she was 7 years old; she's a so-called Dreamer, legally living in the United States under the Deferred Action for Childhood Arrivals; she's the first in her family to attend college.
While at Sierra High School, she figured out on her own that she was going to have to be among the most high-achieving students to get any help. Financial aid is not an option for most undocumented students and her counselors were ill-equipped to help her.
She was named a Boettcher Scholar, so tuition would be paid at any in-state college. But room and board were still too expensive. Initially, she was sad that her only real choice for college was UCCS, but she soon realized it was the best choice she could have made.
"I have been given opportunities that I don't think I would've had elsewhere," she said. "I made the best of them and it turned into other things – I've been able to make of an impact here on campus and in the community.
"By end of freshman year, I felt it was the right choice. I don't regret it at all."
Benitez, 21, initially thought she'd pursue something in the health care field, but she soon switched to sociology with an eye on law school because she'd always been interested in law and social justice. Her interests were piqued more when she volunteered with Teen Court as part of her community service for the Chancellor's Leadership Class.
She worked as a student assistant in the Multicultural Office for Student Access, Inclusiveness and Community, and in February 2017 created UNIDOS, a club for undocumented students. She also co-founded the Springs Dream Team, which does outreach in Colorado Springs and Pueblo.
All of that put her at the heart of debate over DACA and the uncertain future for those, like herself, who arrived in the United States as children. She became an activist.
"You worry about it all the time – all undocumented students think about it every day, especially within this political climate," she said. "I worry not just for myself but also for my family.
"DACA is such a privilege, you have a legal presence but not legal status."
Still, Benitez says it's important for people to find ways to speak out and be supportive when they can.
"I tell students, and all who are marginalized, that it is difficult," she said. "It's not always about just pulling yourself up by your boot straps. But regardless of injustice, being able to speak up and being able to speak one's thoughts is powerful.
"Many, though, have no protections and I recognize there are repercussions. It's important to be strategic about what you say. It's about courage and what you can do with it. It's not that I wasn't afraid, I knew that all of this was much bigger than me."
Benitez' senior year was exhausting, emotionally and intellectually, and she decided to take a year off before heading to grad school. Well, a year off from classes anyway. Her activism will continue.
She recently learned that she was one of two students to earn UCCS' Student Achievement Award and will address graduates during the morning ceremony May 11. And she has been accepted to the Dream Summer Fellowship at UCLA, where participants work with social justice-based organizations for 10 weeks on immigrant issues.
"I still have to be active," she said. "There's a lot of work to be done."
— by Sue McMillin
— Photos by Jared Verner
Read earlier commencement profiles in this series here:
Commencement profile: MPA student leaving his mark on west campus
Commencement profile: After homelessness, degree provides path to new life
Commencement profile: International student flourishes at UCCS
Commencement profile: Flexibility the key for student body president