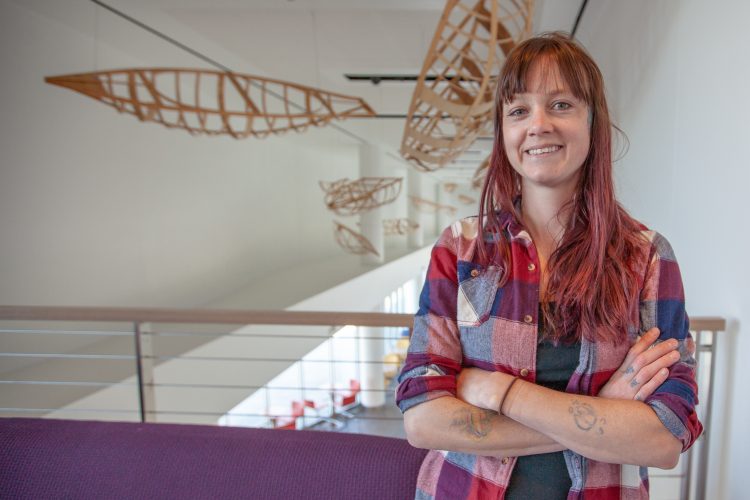 Editor's Note: This is the third in a series of profiles of students who are graduating this semester. 
Seemingly focused on self-destruction, Jansen Howard graduated from high school and joined a tight-knit counter-culture group for four years of homelessness, drinking, drugs and roaming the country. They didn't have to be part of anything or accountable to anyone.
But it took its toll. Every year, two or three of her friends died – overdoses, train accidents (while hopping trains), even homicides. It was hard to watch, to be part of, and Jansen decided she wanted something else.
She turned to education.
"I don't know, something clicked in me and I decided to enroll in community college when I was 22," she said. "I enrolled in Pikes Peak Community College."
But she wasn't sober yet, alcohol being her self-medicating drug of choice. Instructors at PPCC sometimes pulled her out of class for being drunk, but they wanted her to succeed.
So did she, but the key to overcoming addiction, she noted, was to find something to drive you. And it took many attempts to quit alcohol.
"I had to isolate myself and separate myself from people I'd traveled with," she said. "It wasn't easy. They were my friends – and I was closer to them than my family."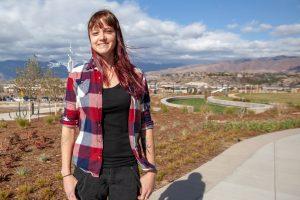 A few other things came together. She discovered she had a passion for art, and her boyfriend at the time issued an ultimatum about drinking. By the time she transferred to UCCS in fall 2015, she had been sober two months.
"I was amazed by how much I could accomplish with a clear mind," she said.
She was also pregnant. That discovery, she said, made her want to succeed even more.
Her pride in being an anti-society "street kid," who thought she was better than others because she had freedom, was slowly being replaced by pride in her art.
"I always doodled on everything throughout my childhood," she said. "But I would've laughed in your face if you'd told me I had any talent."
The art program at PPCC was technique based, and that helped her gain skills and confidence. At UCCS, she had a job in the Visual and Performing Arts department and her art studies gave her the freedom of expression that she stifled so long.
"The combination of those two programs gave me an immense amount of freedom," she said. "For the first time in my life, it is through my art that I've had that freedom to express myself."
Those expressions helped her get to the source of childhood issues that led to her rebellion and alcohol abuse, she said. And led to her goal of pursuing a master's degree in art therapy so she can help others.
She'll graduate from UCCS with a degree in visual arts with a minor in psychology, and in August will start the master's program at Saint Mary-of-the-Woods College in Indiana. It's an online program that will require her presence on campus only about one week each semester, she said.
Her plan is to remain in Colorado Springs, her hometown, and that effort was bolstered recently when she was awarded a QUAD Innovation Partnership internship for this summer. The partnership between UCCS, PPCC, the United States Air Force Academy and Colorado College offers paid, intensive summer learning programs during which students tackle community issues.
"I'm really excited about that," Jansen said. "And a lot less nervous – now that I've gotten the internship for the summer. I need a source of income, and the internship gave me some breathing room."
Now 28, the single mother and her 2-year-old daughter, Arrow Tesla, recently moved into an apartment, and her world is beginning to feel solid. Her goal is to help homeless people and others in the region find the source of what's holding them back through art therapy.
"There are places I fell in love with," Howard says of her travels. "But I feel called to start in Colorado Springs because of our homeless population. We have a lot of veterans and people with disabilities – I think good work could be done here."
— by Sue McMillin
— Photos by Jared Verner
Read earlier commencement profiles in this series here:
Commencement profile: International student flourishes at UCCS
Commencement profile: Flexibility the key for student body president