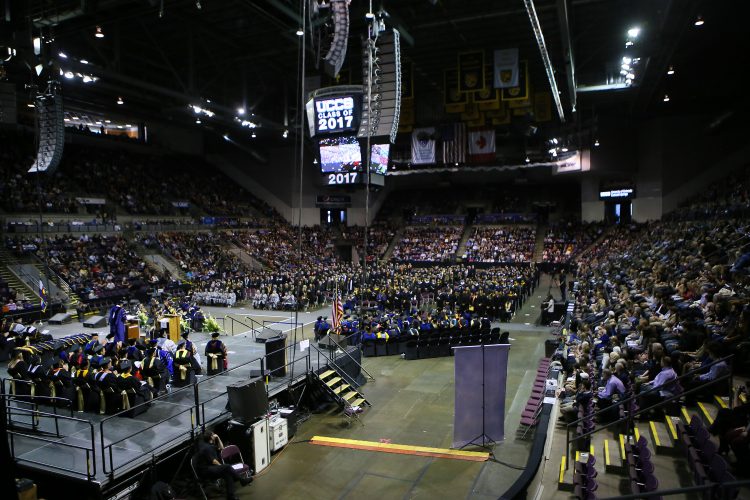 A record number of UCCS students are expected to graduate this spring in a pair of ceremonies for the 2018 spring commencement May 11 at Broadmoor World Arena. Of the 1,400 students expected to earn doctoral, master's and baccalaureate degrees this semester, approximately 1,100 will participate in the ceremonies.
Complete information on logistics for graduates and guests can be found at uccs.edu/commencement. Both commencement ceremonies are free and open to the public.
Timing
The morning ceremony for the College of Letters, Arts and Sciences will be at 10:30 a.m. Graduates are asked to arrive by at least 9:45 a.m. and use the Penrose Club entrance. Doors to World Arena open at 9 a.m. for guests.
The afternoon ceremony for the College of Business, College of Education, School of Public Affairs, Helen and Arthur E. Johnson Beth-El College of Nursing and Health Sciences, and the College of Engineering and Applied Science is at 2:30 p.m. Graduates are asked to arrive by at least 1:45 p.m. and use the Penrose Club entrance. Doors to World Arena open at 1 p.m. for guests.
Seating
Seats are available on a first-come, first-serve basis, and graduates are allowed an unlimited number of guests. No advance tickets are required.
Handicapped seating is available in Row K, which runs the perimeter of the arena, and one folding chair is available to accompany the wheelchair. Sign language services are available in section 107.
The World Arena does limit the kind of bags and other items are can be brought into the facility. For additional information, visit http://www.broadmoorworldarena.com/guest-services/prohibited-items.
Each ceremony will have a live stream for guests unable to attend in person. Links to each broadcast will be available at uccs.edu/commencement. Each ceremony will also be covered on the UCCS Facebook and Twitter accounts.
Traffic and directions
The Broadmoor World Arena is located at 3185 Venetucci Blvd. The suggested route is to take Exit 138 on Interstate 25, go west on Lake Ave., and then south on Venetucci. Traffic is expected to be heavy before and after each ceremony, and guests are encouraged to allow extra time and carpool if possible. Parking is free in the World Arena lots.
Commencement speakers
At UCCS, the Student Achievement Award recipients deliver the commencement address. Nayda Benitez, an undocumented sociology student, will deliver the morning address. Justin McConnell, a student who persevered through financial and personal challenges, and took eight years to graduate with a marketing degree, will deliver the afternoon address.
CU President Bruce Benson will also address graduates at the afternoon ceremony. CU Regents Stephen Ludwig, Glen Gallegos, Kyle Hybl and Sue Sharkey will also be in attendance. The regents will deliver the Norlin Charge and present the special awards, in attention to congratulating each graduate during the presentation of degrees.
Special ceremony awards
The CU Board of Regents will present two special awards during each ceremony. Mary Osborne, a long-time benefactor and community leader, will receive the University Medal. Jay Cimino, chief executive officer of the Phil Long Family of Dealerships and active supporter of veterans, will receive the Distinguished Service Award.
Alumni Association
Upon graduation, each student will join nearly 45,000 UCCS alumni. Enrollment in the UCCS Alumni and Friends Association is complimentary and offers special events each year to keep alumni engaged with their alma mater.
The alumni association also offers a black and gold legacy cord for graduates with an immediate family member who is also a UCCS graduate. Students who donate at least $10 to the class gift will also receive a blue cord in recognition of their gift back to UCCS.
Three golden graduates from the Class of 1968 will also be recognized during the ceremonies.