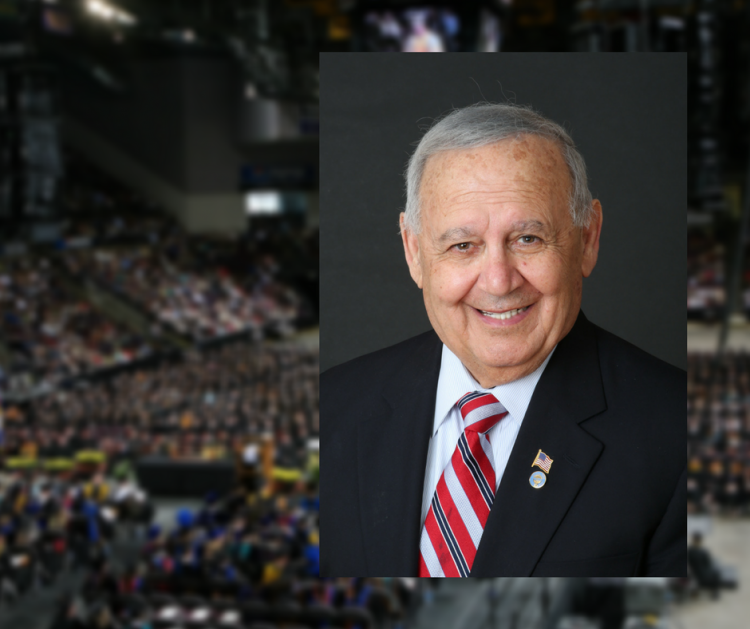 A business leader in southern Colorado will be recognized for his service to the university and the greater Colorado Springs community during the 44th UCCS spring commencement ceremony May 11. Jay Cimino, president and chief executive officer for the Phil Long Family of Dealerships, will be recognized with the Distinguished Service Award by the CU Board of Regents during the spring commencement exercises at the Broadmoor World Arena. The honor is presented to individuals who have demonstrated outstanding achievement associated with the state or nation.
Cimino is a native of Trinidad, Colorado, and a veteran of the United States Marine Corps. He stresses community commitment, quality service and exceptional value with his employees. Cimino models his vision with the benefits to his employees, the work in his hometown and his development of the Mt. Carmel Health, Wellness and Community Center in Trinidad and the Mt. Carmel Veterans Service Center in Colorado Springs.
Mt. Carmel created an integrated health care model with doctors, nurses, physician assistants and therapists for non-emergency, high-quality and patient-centered services. Jay developed the Phil Long Operation Home Support program to provide emergency transportation for spouses of deployed soldiers and the Returning Heroes program to provide a reconnection retreat for soldiers and their spouses after deployment. He also contributes to the Warrior Transition Battalion, the Home Front Cares organization and Fort Carson Resiliency Campus.
Using the same holistic approach from Mt. Carmel, Jay built gym facilities, developed a health and wellness program, and opened an on-site health clinic available for his 900 employees and their families. The program includes personal training, weight loss, nutrition, tobacco cessation classes, yoga and more.
Cimino opened new dealerships in Trinidad and nearby Raton, New Mexico, and established the Trinidad Community Foundation. He was instrumental in the La Puerta de Colorado project to encourage redevelopment of downtown Trinidad.
Cimino has been involved with multiple non-profits like Pikes Peak United Way, Care and Share Food Bank, the Food Bank of the Rockies, the Susan G. Komen Race for the Cure, the Lung Cancer Center and the American Cancer Society. He attended Trinidad State Junior College and earned his bachelor's degree from the University of Denver.
Cimino will be recognized during the spring commencement exercises scheduled for 10:30 a.m. (College of Letters, Arts and Sciences) and 2:30 p.m. (Helen and Arthur E. Johnson Beth-El College of Nursing and Health Sciences, College of Business, School of Public Affairs, College of Education, College of Engineering and Applied Science). UCCS holds two commencement ceremonies to ensure that graduates can bring friends and family to the ceremony. Approximately 1,400 degrees will be awarded this spring and 1,100 graduates are expected to participate in the ceremonies.