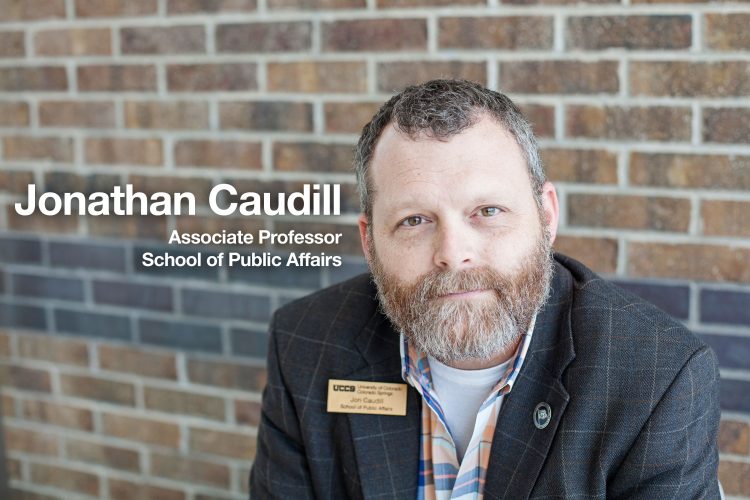 Jonathan Caudill's natural path seemed to be in criminal justice, having grown up in a law enforcement family. Although as a boy, he tossed around possibilities like astronaut or physician.
He joined the Marine Corps for two years after high school, and in college his focus narrowed to criminal justice. He worked with juvenile offenders at a residential boot camp, which aims to reduce recidivism and transition youth back into the community.
"I found that working with them and understanding more about their behavior and interactions with the criminal justice system to be more interesting than the environmental science courses I was taking at the time," said Caudill, a UCCS associate professor and director of the Master of Criminal Justice program in the School of Public Affairs.
Caudill earned a bachelor of arts in 2002 and a master of arts in 2004, both in criminal justice from Sam Houston State University in Texas.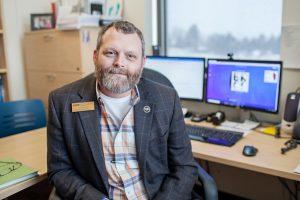 He became interested in teaching while working as a probation officer when he was finishing his master's program. He ran cognitive-behavior groups with juvenile offenders that helped them work through their personal ambitions in the context of their decisions and the consequences of those decisions.
"I found it overwhelmingly rewarding when the light would come on for these offenders and they could explain conceptual ideas we discussed in group," he said. "I realized then that teaching would be both personally rewarding and would give me an opportunity to expand my influence on the community."
He remained a probation officer for a few more years before accepting a position as a teaching associate in 2007 at the University of Texas at Dallas. There he earned his Ph.D in 2010 and discovered another passion.
"I fell in love with research. I came into this thinking it was about teaching, but what I found was I really like to have a voice and try to help those who are working in the field," he said. "When I left working as a probation officer, I missed it, and this was a way to contribute back to that."
Caudill joined UCCS in 2016 after spending six years at California State University, Chico, where he held various roles, including director the Consortium for Public Safety Research, associate professor of political science, and coordinator of the Criminal Justice program.
UCCS graduate student Erika Weliever has taken several courses with Caudill. She is in the dual program, working on her master's in criminal justice and her master's in public administration. "Dr. Caudill has been there every step of the way to help me achieve this goal," said Weliever, who is scheduled to graduate this fall.
She currently works as a student assistant at the School of Public Affairs and has gotten to know Caudill beyond the classroom.
"He is a family man, and you can see that when you get to know him and see how he cares for his students," she said. "He hates to see his students fail at anything and tries his best to make sure that does not happen. He goes above and beyond what is asked of him, and I am glad that I have gotten to experience what he is like within the classroom and outside of the classroom."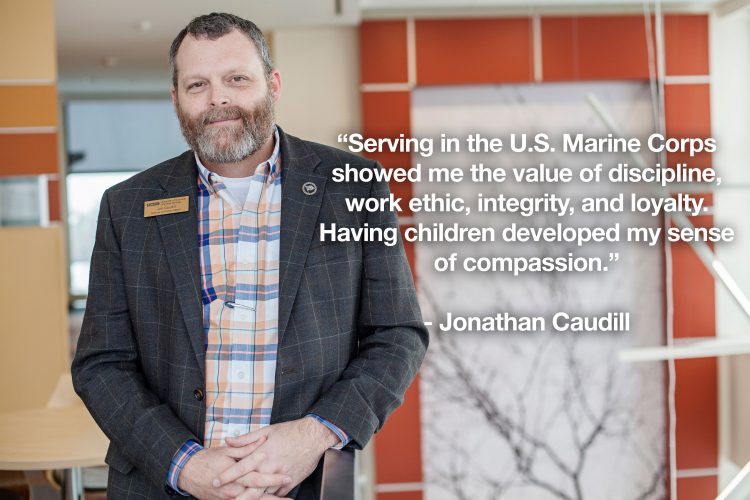 Caudill's research focuses on formal social control, specifically police-suspect interactions, patrol strategies, prosecutorial actions, institutional misconduct, and post-incarceration recidivism.
"I'm very interested in how we use laws and governmental functions. At its very essence, this is the relationship between criminal behavior and governmental control," he said. "Perfecting the appropriate level of formal social control seems elusive and, thus, creates situations where we over-exert control, whether it be police resources or incarceration, and other situations where we do not provide enough resources such as patrol resources, treatment services, and supervision options."
Ideally, he said, the most appropriate level of formal social control responds to the individual offender and/or situation, "but our contemporary legal system has focused more so on standardization than individual justice."
Caudill has published more than 25 peer-reviewed studies, including in the American Journal of Criminal Justice, Crime and Delinquency, the International Journal of Offender Therapy and Comparative Criminology, and the Journal of Criminal Justice.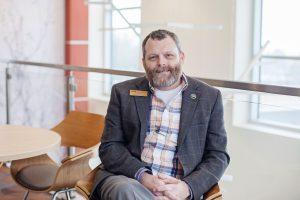 He serves as co-editor for Youth Violence and Juvenile Justice, a peer-reviewed journal, and as an associate editor for the international Journal of Criminal Justice. He is a co-author of the book "Lost Causes: Blended Sentencing, Second Chances, and the Texas Youth Commission," which was nominated in 2017 for the Academy of Criminal Justice Sciences Book Award.
Caudill collaborates with local and state criminal justice agencies. His most recent project explores the social consequences of contemporary sentencing reform with agencies in California, stemming from a 2011 U.S. Supreme Court mandate in which the state began reducing its prison population by releasing certain offenders to county jails or to parole.
"We're developing lesson plans on standardized training for correctional officers to work with these offenders," Caudill said. "Many of them have behavioral health issues and drug addiction."
More than a decade into teaching, he still loves that moment when it clicks for his students.
"That phenomenon is powerful. It is even more meaningful when the individual is set in their opinions before we explore the topic. I make it a point to not teach students what to think. Instead, I facilitate their development of skills and abilities around understanding complex ideas," he said. "My goal is to develop their critical thinking skills and prepare them to be self-learners across their lives."
###
–Photos by Anslee Wolfe
Read earlier faculty profiles in this series here:
Faculty profile: Helping people survive trauma drives Charles "Chip" Benight
Faculty profile: Jessi L. Smith leads the way, speaking her mind