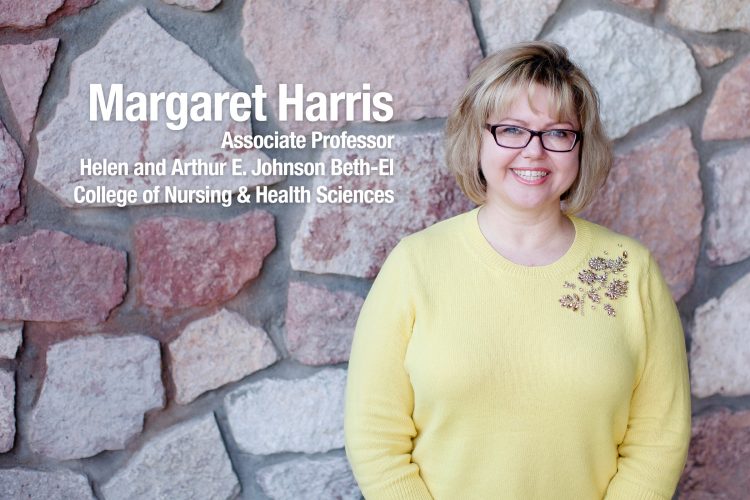 As a girl, Margaret Harris knew she wanted to grow up to help people but didn't know in what role.
Her parents hoped it would be as a medical doctor. Only problem: she faints when seeing blood. In college, a friend told her about epidemiology, the study of how and why diseases occur in different groups of people. Harris was hooked.
"At the time, I was an avid mystery reader, and to me epidemiology seemed like a mystery to solve," she said. "There's all these risk factors and you need to figure out which one is linked to which disease."
It became her dream to work as an epidemiologist at the Centers for Disease Control and Prevention in Atlanta. She started planning her life accordingly, including which graduate degree to pursue and which Ph.D. program to attend.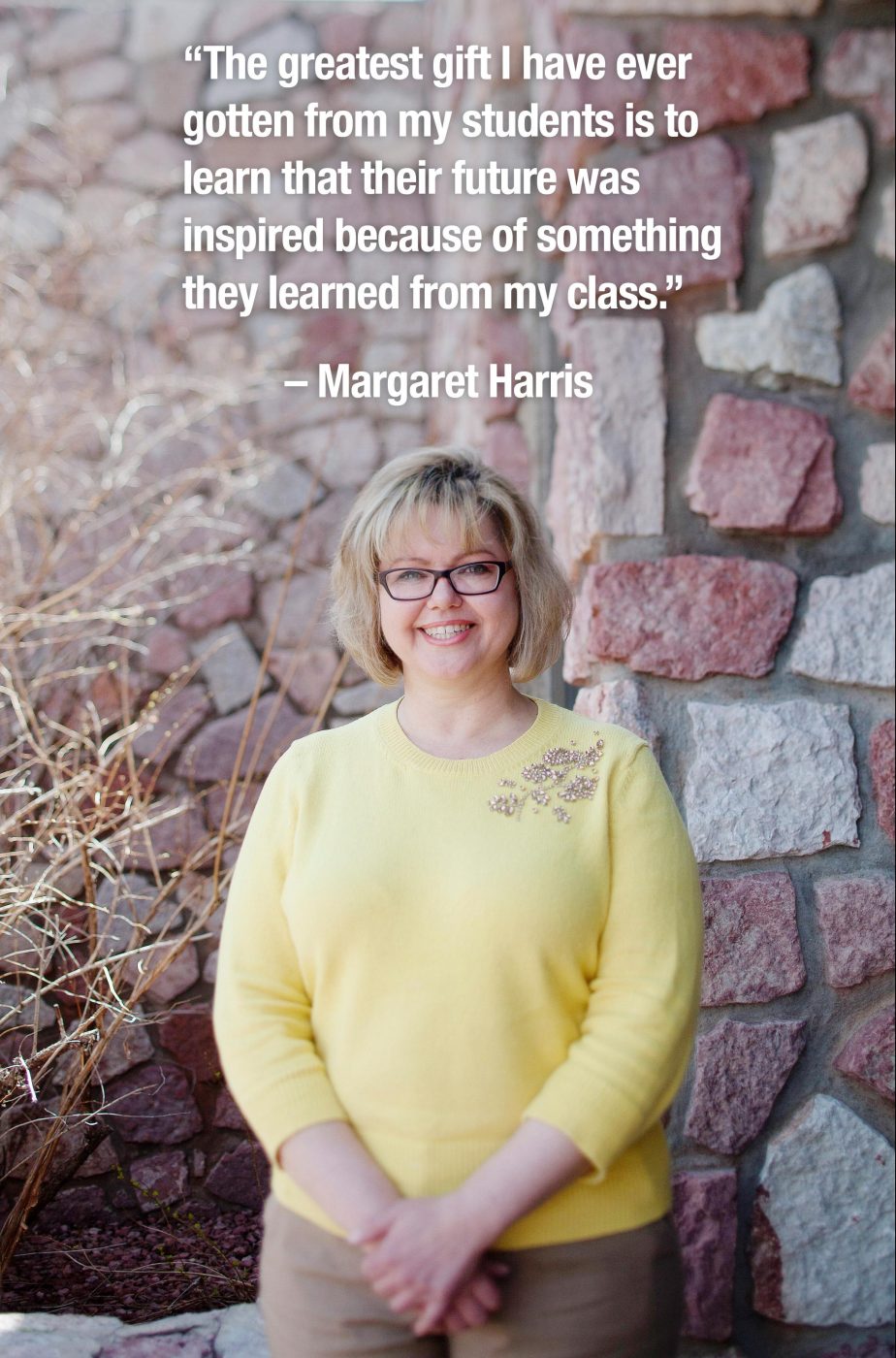 "But then life happened," said Harris, whose path instead led to UCCS, where she's an associate professor of health sciences.
Growing up in Brooklyn—her family moved from Poland when she was a toddler—she has memories of playing school with her dolls and stuffed teddy bears.
"The thing is, it never sparked a passion for teaching because I was painfully shy, and I had a deathly fear of being in front of the public," she said.
Harris turned to an unlikely group in high school to help overcome her shyness: the cheerleading team.
"That's just kind of what I do. If I see that I have a weakness, I'm going to challenge myself to get over it," said Harris, who read books on how to talk with people. "When I became the cheerleader that I never thought I had in me, I became a social butterfly."
And she felt better prepared for college. She earned a bachelor of science in chemistry with honors in 1992 from State University of New York at Binghamton, then a master of science in epidemiology in 1994 from the University of Virginia in Charlottesville.
During a Ph.D program at the University of North Carolina School of Public Health in Chapel Hill, she was a teaching assistant, her voice shaky in the beginning.
"I discovered I loved it," said Harris, who earned a doctorate in nutrition with an emphasis on nutritional/obesity epidemiology in 1998. "Some students told me I was explaining things in a way that they finally understood, and that made me feel really good."
She met her husband during the MS Program at UVA, having a long distance relationship during her PhD. She put her CDC dream on hold when they moved to Arizona for his medical residency.
Harris did a post doctoral fellowship on body composition at the University of Arizona in Tucson. Eager to be in front of students again, she asked to teach her advisor's class. He said no—at first.
"I begged him and gave him a list of reasons why he needed to let me, and he did," Harris said. "I felt like I found a place for myself."
But the CDC remained her dream. She and her husband had two daughters by the time they moved to Maryland for a fellowship he'd accepted. Atlanta would be their next destination.
Then everything unraveled.
"He left me on the doorstep with two children in diapers and no job, no house," she said. "I panicked because my whole world was gone from under me. I went into survival mode."
She took the first job offered: an obesity epidemiologist at the University of Arkansas for Medical Sciences, conducting research and implementing policy, in 2003.
She held several other positions before joining the UCCS Helen and Arthur E. Johnson Beth-El College of Nursing & Health Sciences in 2011. Along the way, her interests shifted from nutritional epidemiology to community nutrition to integrative nutrition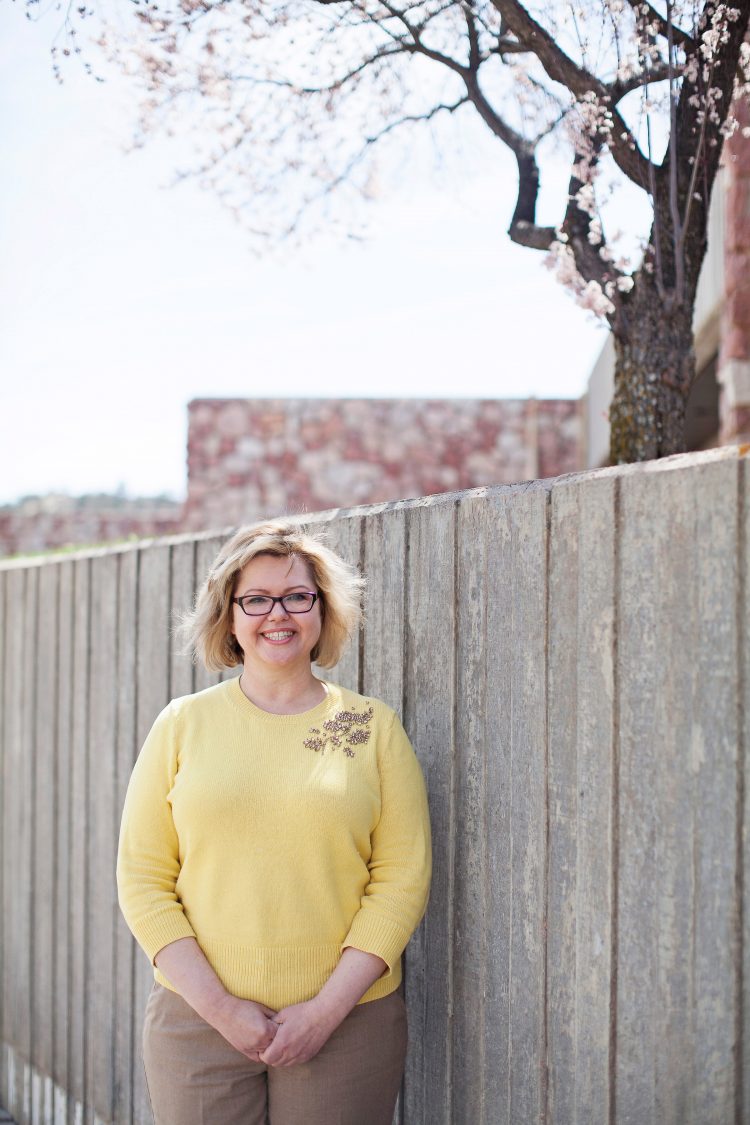 Harris, also a certified health coach, is coordinator of the UCCS Master of Sciences Sport Nutrition Program. Her research and interests today focus on dietary supplements, herbs and functional foods, particularly coconut oil. She has 28 refereed publications and 58 abstracts or poster presentations.
Gabi Alfonso, who graduated in May 2017 with a master of science in sport nutrition, said Harris kept students engaged with humorous stories, lessons linked to real-life situations and highlighting new research.
"Dr. Harris always tailored her class to her students, digging deeper into the topics that students were most interested in," said Alfonso, a Morrison Healthcare dietetic intern in Miami. "She always looked for ways to improve her lectures and teaching methods."
For Harris, 48, the CDC dream faded long ago. Her heart is in teaching. One of her favorite inspirational quotes is a reminder of how she got here: "We must let go of the life we had planned, so as to have the life that is waiting for us."
She's learned that an unexpected career can be for the better because now she can't imagine doing anything else.
"Fate did well," said Harris, whose daughters are 17 and 18 now. "I'm very content with where life landed me."
###
— Photos by Anslee Wolfe
Read earlier faculty profiles in this series here:
Faculty profile: Mathematics sharpens the world for Oksana Bihun
Faculty profile: Jian "James" Ma has been teaching since he was a boy