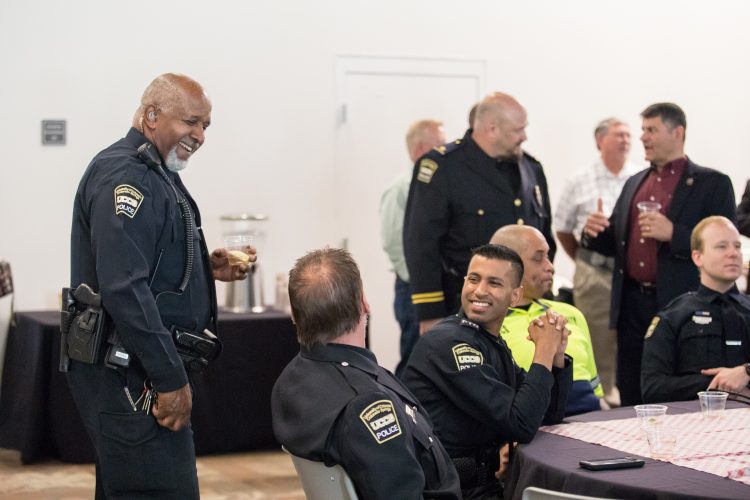 After a record year of enrollment and graduates, Chief of Police Marc Pino recognized Department of Public Safety employees on their hard work and commitment to campus safety during the annual awards ceremony May 31.
This year, UCCS Police conducted 1,088 vehicle stops, more than 10,000 patrol checks, 479 safety escorts, and 2,384 foot patrols.
"We helped reach those campus records by providing a safe environment for students to live and learn," Chief Pino said. "We're here to help students be successful."
Kris Parsons, communications technician, was named the 2018 Employee of the Year.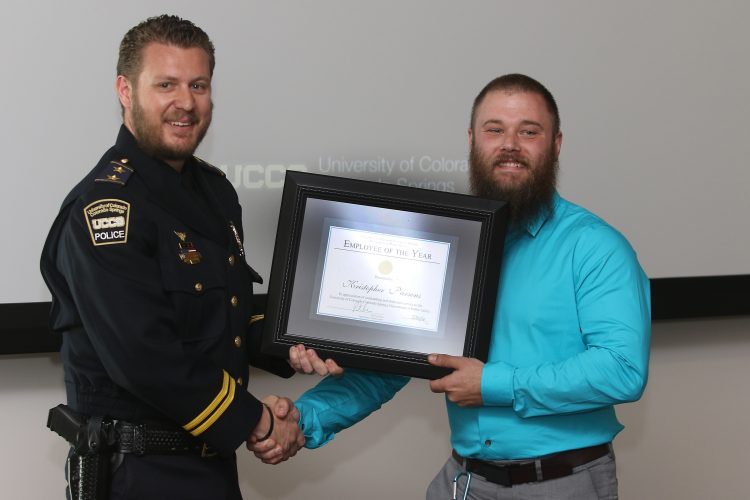 "Kris does not seek recognition, or accolades for the things he does, and most people don't know the extent of his efforts," Chief Pino said. "Instead, he does them simply for his own satisfaction in knowing that he is helping to push the department forward."
Parsons was one of four employees recognized for years of service to UCCS. He has served for five years along with Kurt Lijekvist. Grant Lockwood was recognized for 10 years and Ron Honn for 15 years.
Officers Craig Ginter and Van Leath were awarded the Police Commendation for Excellence for their efforts in increasing department morale and efficiency. Ginter organizes the maintenance for each of the patrols cars – sometimes even doing it himself, on his own time. Leath, who works the night shift, was recognized for his continuous positivity and dependability.
Officer Matt Brown and Cindy Norton, hazardous materials management specialist, received the Commendation for Meritorious Service award. This is awarded to employees who make a significant positive impact through community service, problem solving, partnership development or continued and diligent service to the community. Brown took it upon himself to learn about and update each patrol car's light system, so controls would be consistent in every car. Norton often contributes her time to several roles outside her job description – she serves on more than seven organizations or committees on campus and off.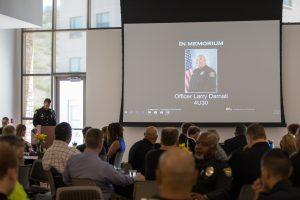 Alegra Smith, campus security officer, received the Craig Highline award in recognition of her efforts in impaired driving enforcement and education. Smith frequently visits local high schools to educate on the dangers of impaired driving and volunteers to bring the thousand-pound impaired driving vehicle, SIDNE, to campus and community events.
The Office of Information Technology and Vice Chancellor for Administration and Finance Chuck Litchfield were recognized for helping public safety achieve their goals for the year.
A moment of silence was held before the awards to recognize Officer Larry Darnall, who died in February.
"It was just last year that I presented him with his 10-year service award. Larry's personality was infectious and has been missed in the department." Chief Pino said.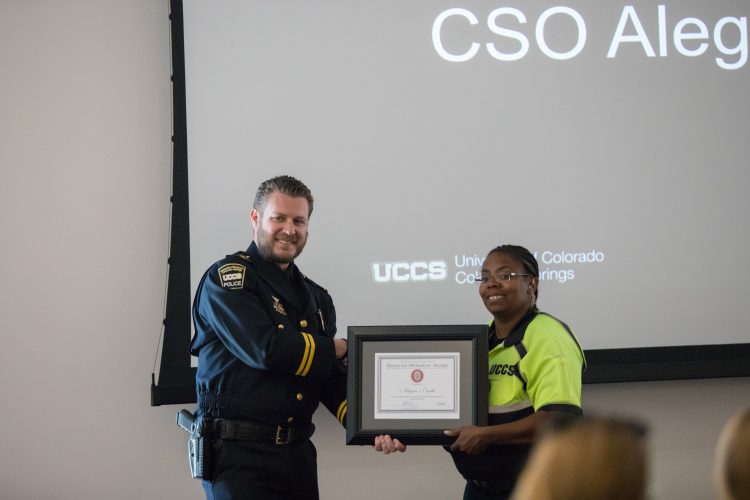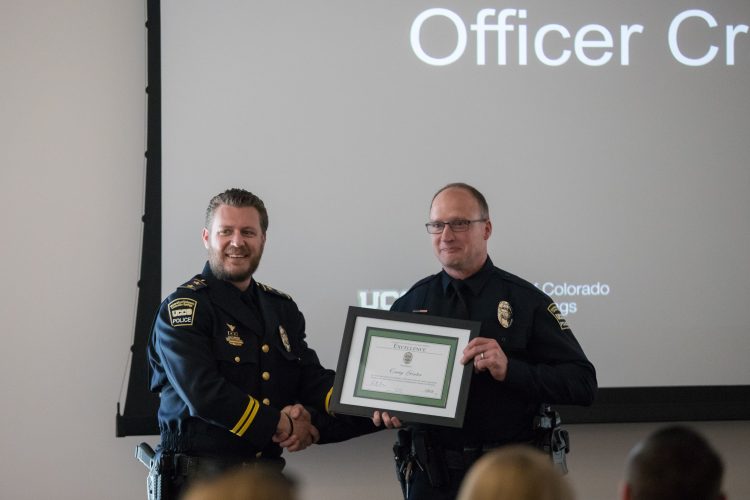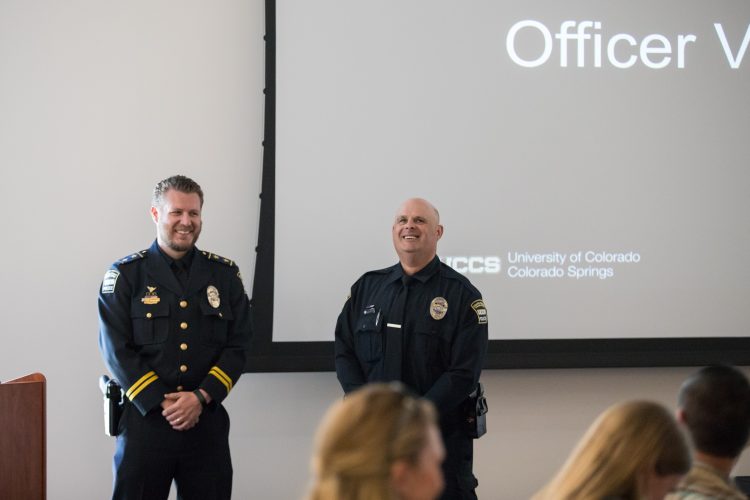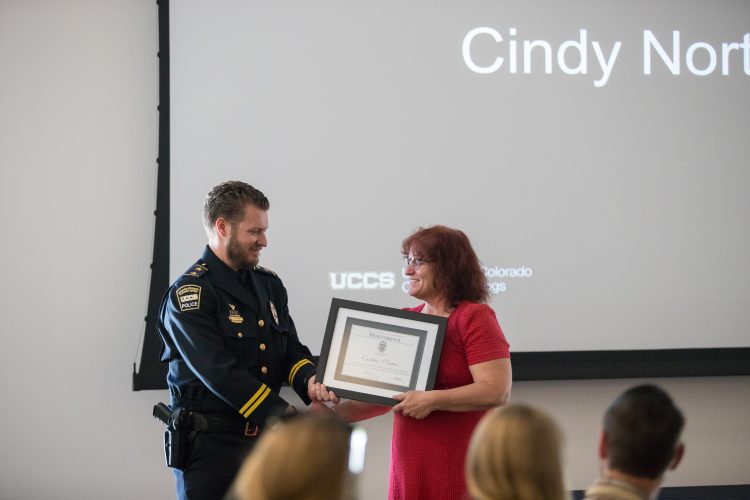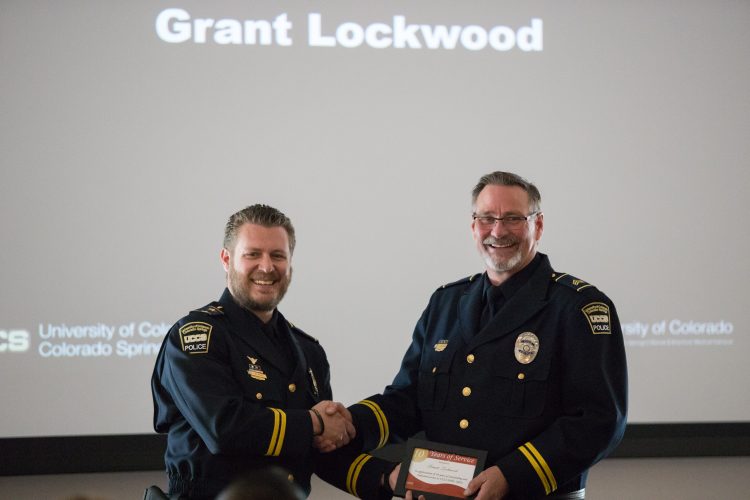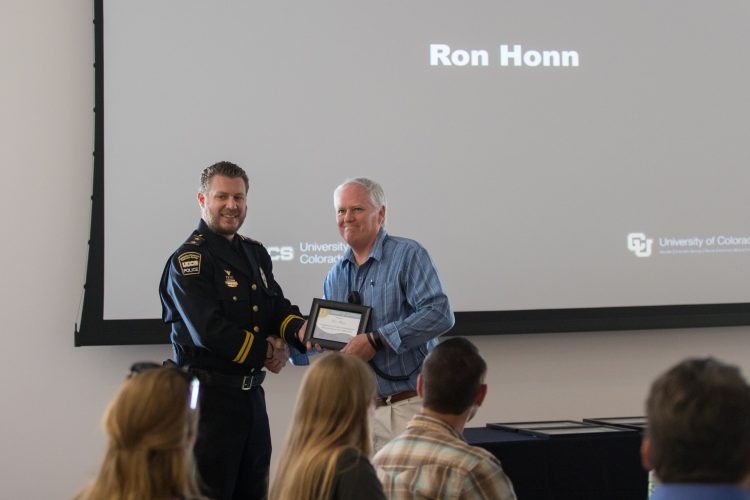 — Photos by Savannah Waggoner