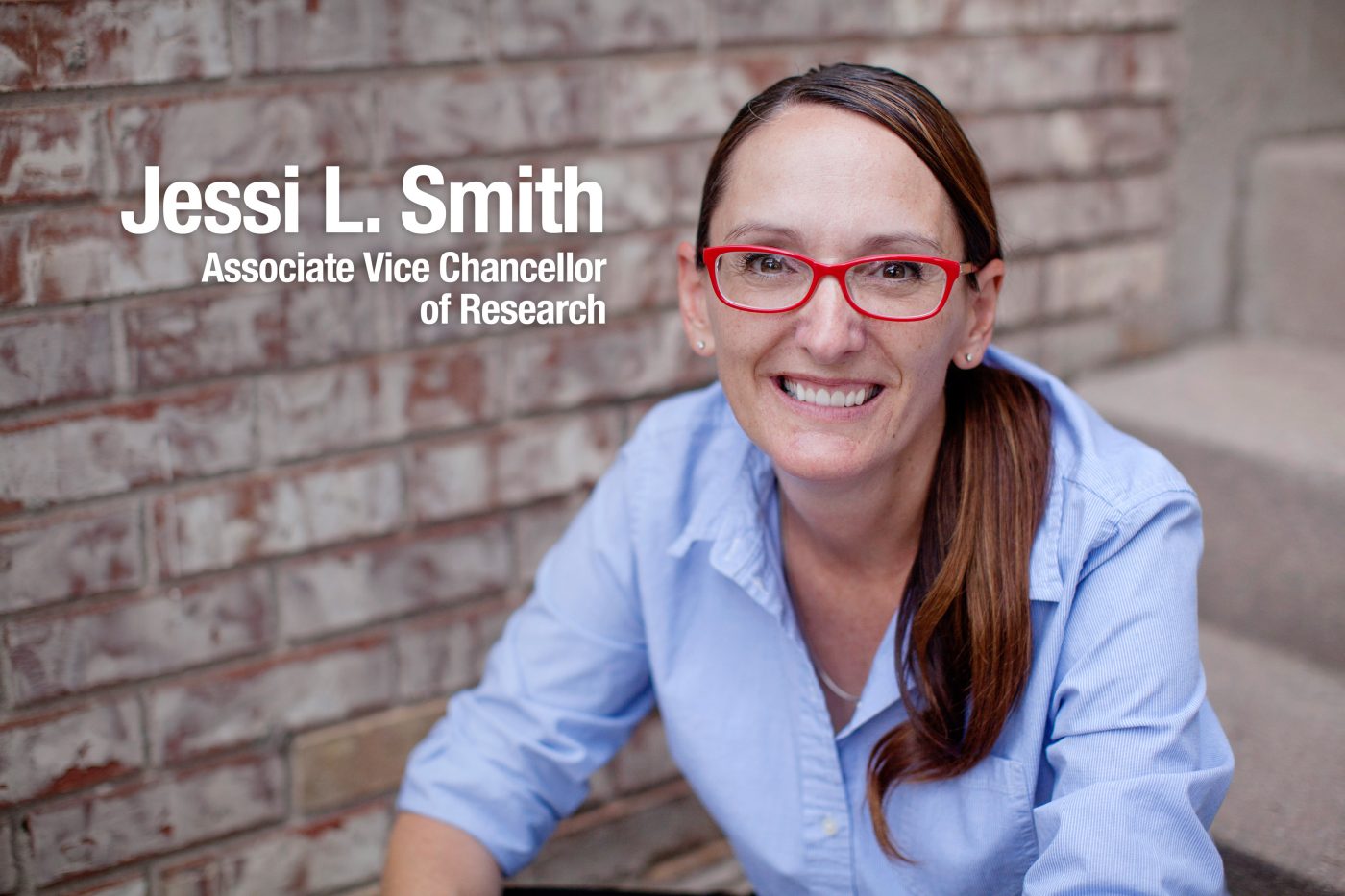 Before the sun comes up, Jessi Smith and her family wake to her pet bird squawking. She fetches him from his cage and returns to bed, snuggling him in her palm while the dogs pile in.
Smith got Heron, named after her favorite bird in the wild, 14 years ago. He sits atop a perch in the shower, soaking up steam. "He wishes I took longer showers, but I'm very water conscious," Smith said.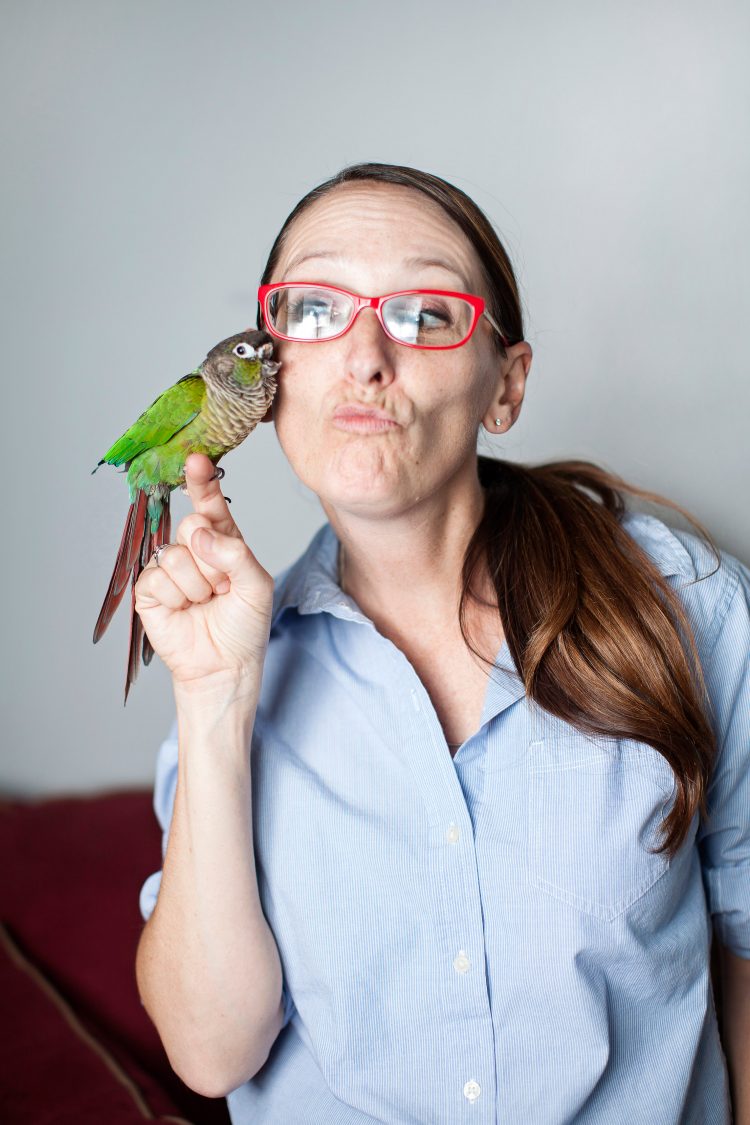 Heron eats breakfast with the family, and before Smith leaves, she puts on tunes for him, usually country. Then she heads to her new job as associate vice chancellor of research at UCCS, where a class she took as a sophomore 24 years ago changed the course of her life.
During introductory psychology, she became fascinated that human behavior could often be predicted through certain factors. "I had no idea that you could quantify and predict human experience," she said. "I thought, 'Wow, what an amazing superpower.'"
She switched her major from communications to psychology. A social psychology class locked in her path when the professor handed back an exam and told her, "You did very well on this. Most students don't."
"I left going, 'Wait, what? I'm good at this?' When I look back, it was such an important moment," she said. "I was like, 'Well then, social psychology is clearly for me.'"
Now she's returned to her alma mater as a psychology professor and seasoned researcher. Her focus is growing campus research in the university's first full-time position for it.
Smith, 43, is familiar with leading the way. Before joining UCCS in August, she spent 12 years at Montana State University, where she made history twice in the psychology department—once as the first woman to earn tenure and then again as the first woman to be promoted to full professor. "I rustled a lot of feathers and changed a lot of culture," she said, "and I'm glad about that."
Smith spent her early years in Colorado Springs, born to young parents, ages 17 and 20, who divorced around her first birthday. At age nine, she went to live with her maternal grandparents in southern California.
"My grandma was a stay-at-home mom, so I had a full-time caregiver who could help me go to choir practice and drive me to school. I could not have gotten that here," she said. "My mother worked full time. We took the bus. We ate TV dinners that we would share. She was a super-young person. I'm really grateful how that all worked out."
For a fifth-grade class assignment called "All About Me," Smith penned her future: "I'm going to grow up and be a computer scientist who works for Xerox." That shifted in high school when she took her first computer science class. She was one of just a few female students. "And I was the only eccentric person in the class," she said. "I looked around and I didn't feel like I belonged."
At 18, she moved back to Colorado Springs to attend UCCS.
She quickly made lifelong friends during what is now called the Gateway Program Seminar for freshmen. "Without that program, as a first-generation student, I would've just been lost," said Smith, who later served as a student mentor for it.
Once she became a research assistant in the psychology department, she couldn't stop, often spending nights and weekends in the lab, helping professors, undergrads and graduate students. She found where she belonged.
In 1997, she received a bachelor of arts in psychology, summa cum laude. At the University of Utah, she earned two more psychology degrees, both with specialization in social psychology: a master of science in 2000 and a Ph.D. in 2002.
As a social psychologist, she studies how people are affected by others and by their social and physical environments. That's not to be confused with a clinical psychologist who offers therapy and treatments. "I make that very clear," Smith said. "People are disappointed when they sit next to me on an airplane."
She may measure whether feedback is motivating or discouraging based on how it's worded, an example highlighted by her professor's comments when he handed back her exam. "If he would have said, 'You got a 98,' period, it wouldn't have meant as much," Smith said.
She did extensive research at MSU that included implementing a National Science Foundation ADVANCE grant to broaden female participation in STEM and social behavioral science fields. Under her leadership, MSU saw a 66% gain in the number of women faculty hired and she put programs in place to help raise women's research funding in ways that significantly narrowed the gender-gap.
Smith, who was also special assistant to the provost, ran the Motivation and Diversity research lab. She has more than 80 publications and has given roughly 160 presentations to both professional societies and community members.
"I am definitely a stick-your-neck-out kind of person."
Early during her career at MSU, a top scholar suggested the key to success is getting your work done by burying your head, much like an ostrich. Smith thinks there's value in that sometimes, but that's not how she carries herself, personally or professionally.
"You can be an ostrich with your head in the sand or you can be a giraffe and put your neck out," Smith said, noting the UCCS mascot was a giraffe when she was an undergrad. "I am definitely a stick-your-neck-out kind of person."
She is open about being a lesbian and talks about her family—her son is 11 and her partner is a UCCS women's and ethnic studies instructor—"to draw attention to the fact that difference is valued."
At her first faculty job as an assistant psychology professor at a midwestern university, she was once kicked underneath a table after speaking up during a faculty meeting.
"Jessi is going to tell you what she thinks and when she disagrees with you," said Kelli Klebe, a UCCS psychology professor and dean of the graduate school who was Smith's mentor when she was in the undergraduate psychology honor's program. "But when you make a decision, she'll be right behind you, supporting you."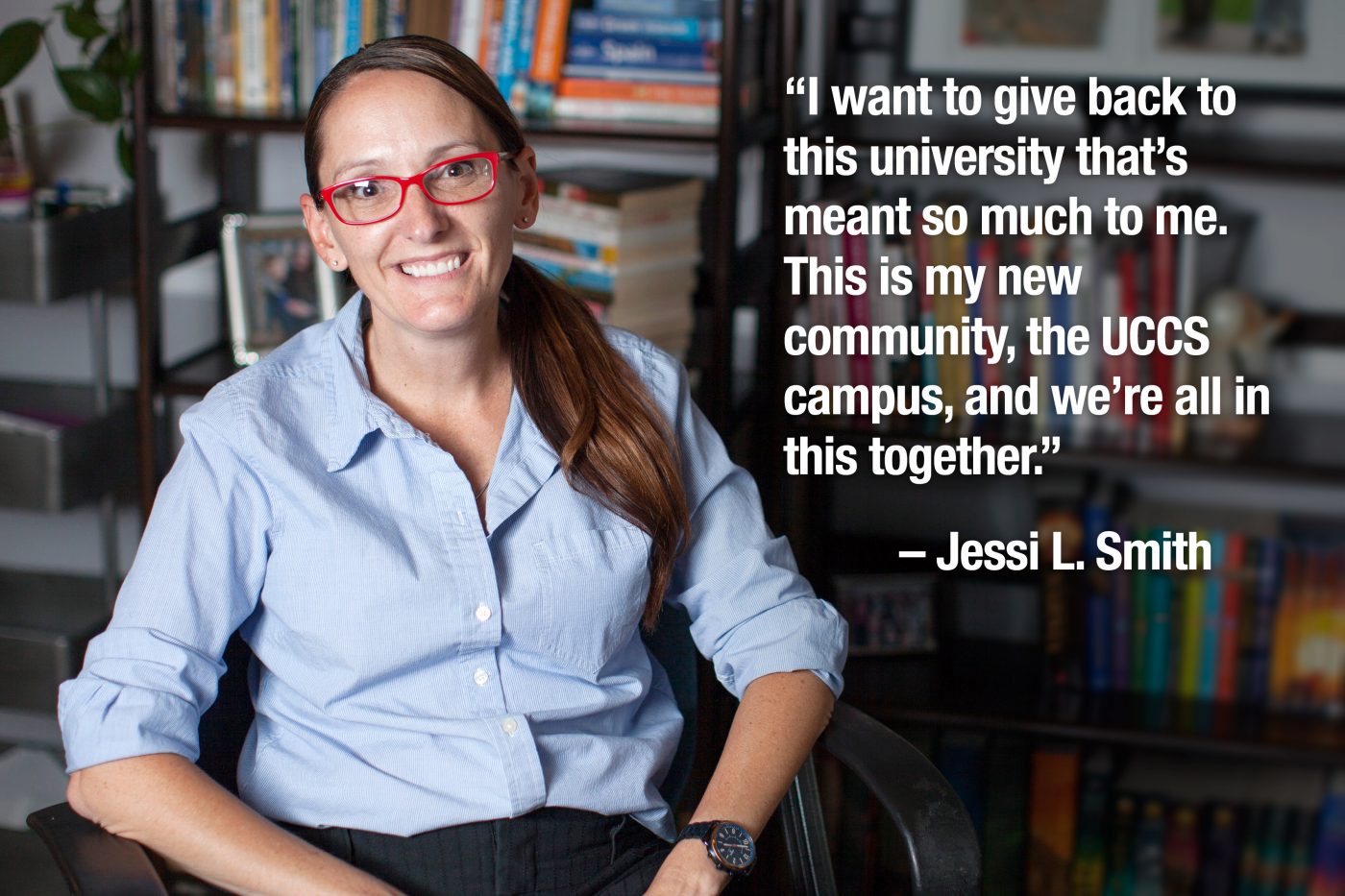 Connecting with people in a way that breaks down barriers is one of the most important things for Smith.
"At the end of the day, I want to make people laugh," she said. "That's my style so people will hear what I'm saying but aren't threatened or defensive. I mean business, but I want to make you laugh, too."
###
— Photos by Anslee Wolfe
Read earlier faculty profiles in this series here:
Faculty profile: Mathematics sharpens the world for Oksana Bihun
Faculty profile: Jian "James" Ma has been teaching since he was a boy