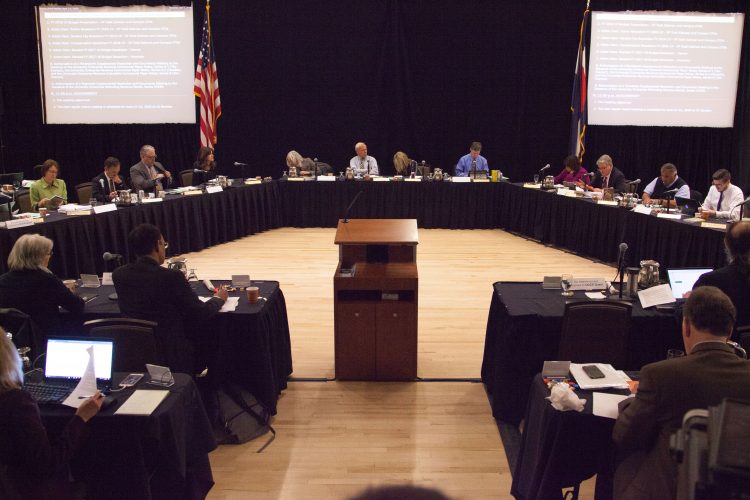 The CU Board of Regents approved semester and academic year sabbaticals for 26 UCCS faculty members for 2019-20 at a Feb. 13 meeting conducted at CU South Denver in Lone Tree.
Those approved were:
Gene Abrams, professor of mathematics
Melissa Benton, associate professor of nursing
Dustin Bluhm*, assistant professor of management
Terry Boult, professor of computer science
Radu Cascaval, associate professor of mathematics
Edgar Cota-Torres, associate professor of languages and culture
Andrew Czaplewski, professor of marketing, strategy and international business
Michelle Dorne*, assistant professor of anthropology
Bernice Forrest, associate professor of history
Margaret Harris, associate professor of health sciences
David Havlick, professor of geography and environmental studies
Edward Hoang*, assistant professor of economics
Christi Kasa, associate professor of teaching and learning
Kelli Klebe, professor of psychology
Anna Kosloski*, assistant professor of public affairs
Roger Martinez, associate professor of history
Edwardo Portillos, associate professor of sociology
Thomas Pysczcynski, distinguished professor of psychology
Jane Rigler*, assistant professor of visual and performing arts
Robert Sackett, professor of history
Raphael Sassower, professor of philosophy
Allen Schoffstall, professor of chemistry and biochemistry
Morgan Shepherd, professor of business analysis
James Stevens, professor of mechanical and aerospace engineering
M. Scott Trimboli, associate professor of electrical and computer engineering
Kristen Walcott-Justice*, assistant professor of computer science
* = if granted tenure
After six years of service to the university on regular full-time appointment, a tenured member of the faculty is eligible for a sabbatical assignment. Faculty who receive sabbaticals are expected to use the sabbatical assignment to enhance his or her scholarly teaching competence and potential for service to the university and advance departmental program goals.