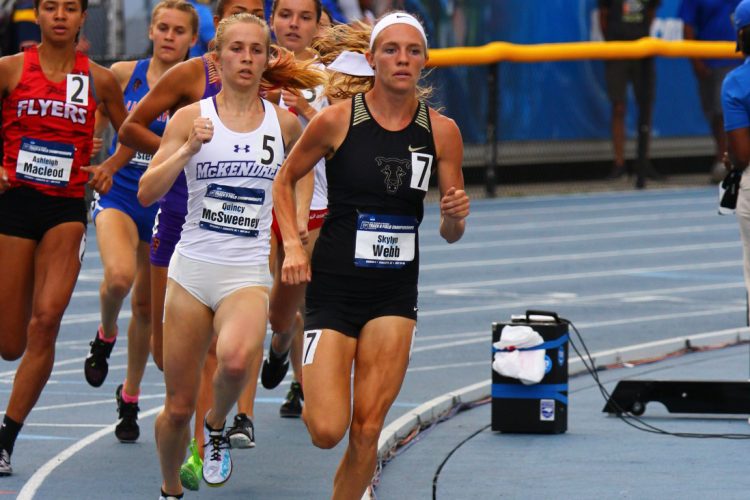 Editor's note – Adeline Gray claimed her spot on the USA Wrestling Senior World Team after winning the Final X freestyle competition June 16. Read USA Wrestling's full coverage here.
Skylyn Webb, a UCCS graduate student in psychology, and Adeline Gray, a former undergraduate student in business, will compete at the national level in a pair of qualifying and championship events.
Webb, the 2018 NCAA Division II outdoor national champion in the 800-meter run, will compete at the USA Track & Field National Championships June 21-24 in Des Moines, Iowa. She will run in the preliminaries at 1:20 p.m. MDT June 21. If she qualifies for the semifinals, she'll run again at 5:50 p.m. MDT June 22, and if she continues to qualify, will run in the championship finals at 2:04 p.m. MDT June 24. NBC Sports Gold will provide live coverage during the preliminaries and semifinals. NBC will cover the final round.
Webb will be one of 32 competitors after she qualified with an NCAA championship record time of 2 minutes, 2.47 seconds May 26. She is the first female individual national championship in UCCS history. She has the fourth-fastest collegiate time, is No. 27 among all Americans and No. 85 in the world performance lists. Webb is a current graduate student in psychology. She earned her undergraduate degree from Fort Lewis College in 2017.
Gray, a three-time world champion and 2016 Olympian, will compete in the Final X freestyle competition for USA Wrestling June 16 in State College, Pennsylvania. She will wrestle Korinahe Bullock in the 76-kilogram division in a best-of-three series starting at 4 p.m. MDT. The winner will receive a spot on the U.S. Senior World Team and the opportunity to compete at the 2018 world championships Oct. 20-28 in Budapest, Hungary. FloWrestling will provide live coverage online.
Gray, a native of Lakewood, Colorado, and a graduate of Bear Creek High School, was a business student at UCCS from 2009 to 2013 while she trained and competed with USA Wrestling. She is the first American wrestler to win junior, university and senior world titles. Gray ended her academic career at UCCS in good academic standing and later completed her business degree at DeVry University.