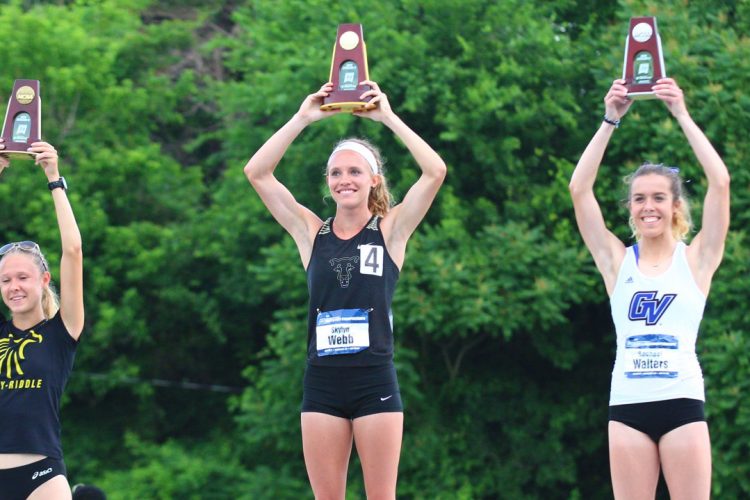 Skylyn Webb won the first women's individual national championship in UCCS history with a meet record time of 2 minutes, 2.47 seconds in the 800-meter run at the 2018 NCAA Division II Outdoor Track & Field Championships. She is the second overall national championship and the first since Moses Tum won the 1,500-meter run at the 2005 outdoor championships.
Along with Webb, six more Mountain Lions earned All-America honors at the championship meet, hosted by Johnson C. Smith University in Charlotte, North Carolina.
Kaija Crowe earned a pair of second team All-America accolades. She finished No. 11 in the heptathlon with 4,843 points and No. 15 in the long jump with 18 feet, 8 1/2 inches.
The men's 4×100-meter relay team finished seventh for a first team All-America award. John Douglas, Deshon Elcock, Caleb Simons and Chris Smith crossed the finish line in 40.78 seconds in the finals May 26.
Following the relay, Molly Klotz placed eighth out of 12 runners in the women's 1500-meter finals to earn a spot on the All-America first team honors. She recorded a time of 4:27.39.
Kayla Zink, Hannah Meek and Sierra Suazo also competed for the women's team in the 100-meter dash, long jump and discus throw, respectively. Simons also competed in the preliminaries for the 200-meter and 400-meter dashes.
The UCCS women's team recorded 11 points and tied for No. 29 in the national results. The men's team finished the meet with two points from the relay performance.