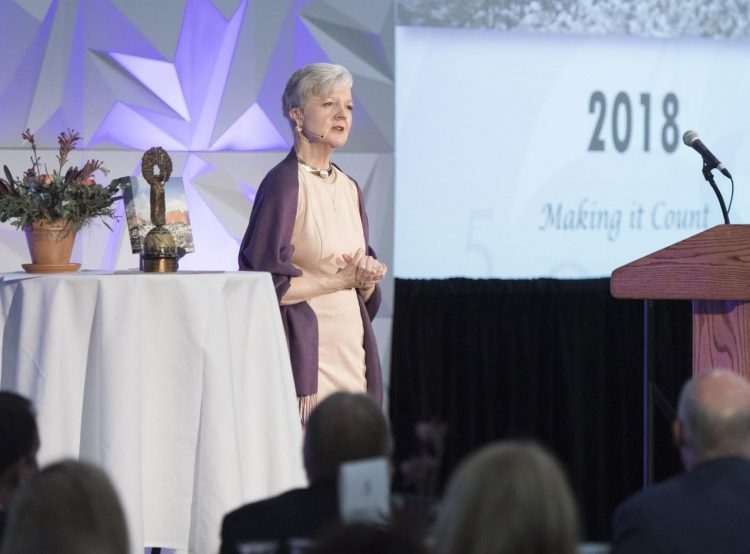 Philanthropist and community entrepreneur Brenda Smith received the 2018 UCCS College of Business Lifetime Entrepreneurship Award May 18 at the 10th annual award luncheon.
More than 420 people attended the sold out event to celebrate Smith, one of two UCCS alumni to ever receive this honor. Smith is currently the co-owner of the Garden of the Gods Collection.
The theme for the event was "Making it Count," an homage to Smith's former career as an accountant. The program included three female executive from BKD accounting firm whom Smith mentored. Smith gave a heartfelt address of her own journey to success.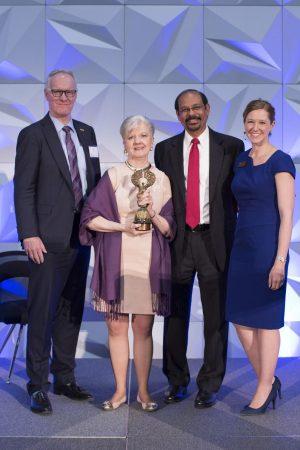 Chancellor Venkat Reddy spoke to Smith's accomplishments, giving a 10-minute speech and presenting her with the handcrafted award sculpture. Eric Olson, interim dean, College of Business, hopes this event will inspire other students.
"What is most impressive about Brenda's career is her concerted effort to mentor others up into the ranks of leadership," Olson said. "This shows that not only is she business savvy and professional, but she also has great character and humility. We hope our students are inspired by her and in turn want to make their own mark on the world."
In 2015, Smith was honored as one of the nation's "Top 100 Influential Leaders" by the College of Business' accrediting organization, Association to Advance Collegiate Schools of Business.
Contributions from the LEA luncheon will support programs of the College of Business Alumni Association, which benefit students, alumni and community members. This year's event specifically featured the Career Coaching Program, which aims at preparing junior and senior students for the workplace through mentorship from local professionals.
Attendees were given the opportunity to sponsor the program with the incentive of receiving a canvas watercolor painting of Garden of the Gods, signed by local artist Susanne Arens. The award-winning painting was featured in the design of the invitation and event program, adding an artistic feel that reminded attendees of the beautiful landscape of the local community.
The 2017 honoree, Lyda Hill, was unable to attend the luncheon but gave remarks via video. To watch this short video, please click here (password: admin1).
The luncheon was made possible by Dean's Circle sponsors including BKD, LLP; Garden of the Gods Collection; Gray Line Tours of Colorado, Inc.; Luisa Graff Jewelers; Nunn Construction, Inc.; Penrose-St. Francis Health Services; Lyda Hill; Charles and Brenda Smith; and Winslow BMW of Colorado Springs.
For more information on the event or for Career Coaching Program pledge information, please call (719) 255-5174.
— by Samantha Wood