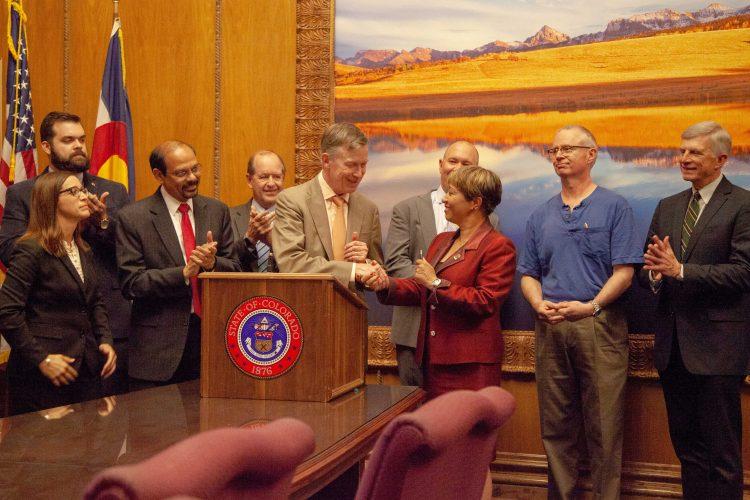 Flanked by bill sponsors and stakeholders, Gov. John Hickenlooper signed the "Cyber Coding Cryptology for State Records" bill into law in a formal signing ceremony May 30 at the Colorado State Capitol.
"Today is a historic day," said Chancellor Venkat Reddy after the ceremony. "This will allow UCCS to bring in faculty expertise and build strong curriculum and programs in blockchain technologies and other cybersecurity areas. We will be meeting the workforce needs of our community and the nation in terms of what we can do with cybersecurity."
The bill will provide support for education, training and workforce development in Colorado Springs. With a focus to cybersecurity, blockchain and related technologies, UCCS will receive $1.8 million for student scholarships, faculty positions and research opportunities. The National Cybersecurity Center, located on the UCCS campus, will receive $1 million to create a state center of excellence and lead efforts for information sharing between federal and state agencies.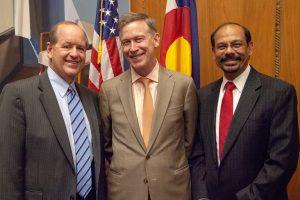 "This is of national importance," Reddy said. "It's important for us to protect personal information and make sure we secure our assets. UCCS is a perfect place for this. We have five military bases, the United States Air Force Academy and more than 400 cyber companies in town. We think we're perfectly located to really draw on that expertise."
The bill will also provide scholarship and research funding to Colorado State University, Colorado Mesa University, Metropolitan State University of Denver, Western State Colorado University and the state community college system. Ron Sega, a UCCS doctoral alumnus through a combined program at CU Boulder and former dean of the College of Engineering and Applied Science, represented CSU as its director of the systems engineering program. The legislation also directs multiple state offices and agencies to develop metrics to identify and address cyber threats to state government records.
The bill was sponsored by Sen. Kent Lambert, R-Colorado Springs; Sen. Angela Williams, D-Denver; Rep. Joann Ginal, D-Fort Collins; and Rep. Bob Rankin, R-Carbondale. The Senate passed the bill initially 33-1 with one abstention on April 6. The House passed the bill with amendments 60-0 with five abstentions May 4, and the amended bill unanimously passed the Senate 35-0 May 7. The full bill text and voting history is available at https://leg.colorado.gov/bills/sb18-086.