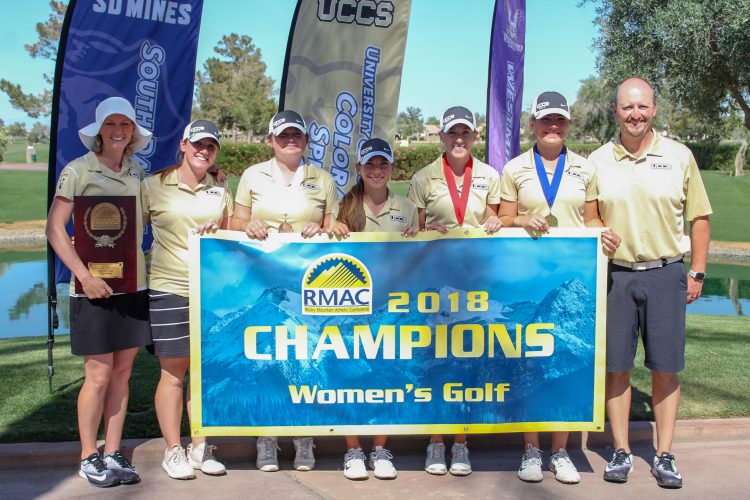 The UCCS women's golf team won by a 24-stroke margin and claimed its first RMAC championship in program history during the 2018 tournament April 22-23 at Ocotillo Golf Course in Chandler, Arizona. Julia Baroth won the first individual championship in program history with a three-round score of 217 for one stroke over par.
The title secured the program's first bid to the NCAA Division II West Region Championship May 7-9 at Hillcrest Golf Club in Durango, Colorado. The title and the postseason appearance both came in the fifth year of the program's history.
The Mountain Lions set the RMAC record for best team score in a conference tournament with a five-over 293 during Sunday's opening round. It broke the previous record by five strokes set by Metropolitan State University of Denver in 2015. UCCS by 12 strokes on the first day and gradually expanded it to 24 strokes by the final round Tuesday.
Baroth won by a five-stroke margin and finished the tournament with a five-over 217 during the three rounds. Teammate Alex Darwin finished as the conference runner-up for the third consecutive season at 222. McKenna Vanko tied for fifth wit a 225, Timbrelee McNair tied for ninth with 229 and Megan Vernon rounded out the UCCS golfers at No. 17 with 237.
The team championship is the third for the Mountain Lion athletic department this season after women's soccer and women's indoor track and field. The win increased the department-wide total to 23 championships. It is the eighth title in all sports in the last five years.
Colin Prater won his second straight men's championship with a 14-under 199 during the three-round men's tournament. Teammate Jack Duguid tied for third with a 208. The Mountain Lion men finished fourth in the team results with a three-under 849.