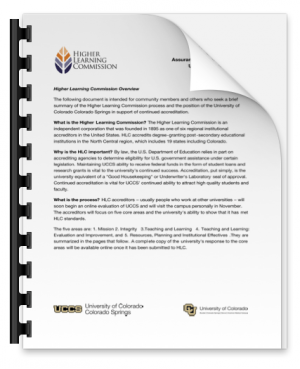 Editor's Note:  Updated Nov. 11, 2016
A detailed schedule for the Nov. 14-15 visit by a review team from the Higher Learning Commission is now available.
Chancellor Pam Shockley-Zalabak encouraged faculty and staff to review the schedule and to attend drop-in session and open forums for faculty, staff and student community members. She also asked that those who attend prepare by reviewing, at a minimum, the assurance argument and the compliance work sheet. Those documents, as well as other supporting documents and details about the review team, are available at http://www.uccs.edu/hlc.
If schedule changes are made, Communique will be updated and will serve as the official location for HLC information.
All meetings will take place on the third floor of the University Center. The tentative schedule for the review team is:
Monday, November 14, 2016
 
Time
Location
Topic
Attendees
8:00 a.m.
UC 309
Check-in
HLC: all team members
8:30-8:45
UC 304
Welcome & Introductions
HLC: all team members
UCCS: Chancellor & whomever she invites
8:45-9:00
UC 303A
Assurance Process
HLC: all team members
UCCS: Provost and HLC Steering Committee
9:00-10:00
UC 304
Student Success Overview
HLC: Ken Peress & Barbara Wharton
UCCS:
9:00-10:00
UC 307
Athletic Director
HLC: Katricia Pierson
UCCS:
9:00-10:00
UC 303A
Division/Dept Chair
HLC: Bill Roweton & Colleen Greer
Assessment & Program Review Processes
UCCS: Division and Department Chairs
10:00-11:00
UC 304
Compliance Committee and Title IX
HLC: Katricia Pierson
UCCS: Title IX Coordinator Compliance Committee
10:00-11:00
UC 303B
Institutional Research and
HLC: Barbara Wharton & Bill Roweton
Assessment of Student Learning Outcomes
UCCS: director/coordinator/small group
10:00-11:00
UC 307
OPEN TIME
11:00-12:00
UC 307
Academic Advising
HLC: Ken Peress & Bill Roweton
UCCS:
11:00-12:00
UC 303A
Financial Overview
HLC: Katricia Pierson & Barbara Wharton
UCCS: CFO & Budget Committee
11:00-12:00
UC 303B
General Education
HLC: Colleen Greer
UCCS: team leader/committee chair
12:00-1:30
UC 309
Lunch
HLC: all team members
1:30-2:30
UC 302
Student Interview
HLC: Ken Peress, Colleen Greer & Bill Roweton
Combined with Students as directors session
UCCS: Chancellor's Leadership Class, RAs, Student Government Representatives, Students who serve as Student Directors (student employees), any other interested students
1:30-2:30
UC 303B
Strategic Planning
HLC: Katricia Pierson & Barbara Wharton
UCCS:
2:30-3:30
UC 307
Physical Plant
HLC: Katricia Pierson & Barbara Wharton
UCCS:
2:30-3:30
UC 304
Auxiliary Operations
HLC: Ken Peress
UCCS:
2:30-3:30
UC 302
Faculty Interview
HLC: Bill Roweton & Colleen Greer
UCCS: Faculty
3:30-4:30
UC 304
Enrollment Management & Student Retention
HLC: Ken Peress & Barbara Wharton
UCCS:
3:30-4:30
UC 303B
Complaint Process (where do students go when they have a complaint or grievance)
HLC: Bill Roweton & Colleen Greer
UCCS:
3:30-4:30
UC 302
Staff Interview
HLC: Katricia Pierson
UCCS: Staff
4:30-5:30
UC 303A
Financial Aid
HLC: Ken Peress & Colleen Greer
UCCS:
4:30-5:30
UC 307
Drop-In Session
HLC: Katricia Pierson & Bill Roweton
UCCS: all faculty and staff are invited
5:30
UC 309
Site Team Meeting
HLC: all team members
Tuesday, November 15, 2016
 
 
Time
Location
Topic
Attendees
8:00-9:00
UC 307
Drop-In Session
HLC: Ken Peress & Bill Roweton
UCCS: all employees and students are invited to visit individually with an HLC team member
8:15-9:00
UC 304
Leadership at UCCS
HLC: Katricia Pierson
UCCS: Chancellor Pam Shockley-Zalabak
9:00-10:00
go to HR
Review of Credentials
HLC: Colleen Greer & Bill Roweton
(meet at UC 304)
UCCS: Human Resources
9:00-10:00
UC 303A
Information Technology
HLC: Katricia Pierson & Barbara Wharton
UCCS:
9:00-10:00
UC 302
Open Forum for Criteria 1&2
HLC: Ken Peress
UCCS: All are invited, particularly those who drafted the self-study
10:00-11:00
UC 302
Open Forum for Criteria 3&4
HLC: Bill Roweton, Colleen Greer & Barbara Wharton
UCCS: All are invited, particularly those who drafted the self-study
10:00-11:00
UC 304
Student Support and
HLC: Ken Peress
Student Life
UCCS:
11:00-12:00
UC 302
Open Forum for Criterion 5
HLC: Katricia Pierson & Barbara Wharton
& Institutional Priorities
UCCS: All are invited, particularly those who drafted the self-study
11:00-12:00
tour
Facilities Tour
HLC: Bill Roweton & Colleen Greer
(meet in UC 3rd Floor Foyer)
UCCS:
12:00-12:15
UC 304
Exit
HLC: Katricia Pierson
UCCS: Chancellor Pam Shockley-Zalabak and any staff she would like to attend
Related Posts: