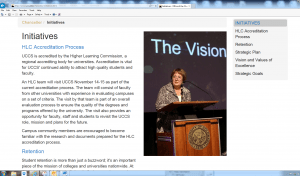 As part of the UCCS Higher Learning Commission reaccreditation process, a review team will visit the campus Nov. 14-15.
UCCS faculty, staff and students will have opportunities to meet with the review team, and UCCS leadership is encouraging attendance at those meetings. To help faculty and staff prepare for those meetings, Chancellor Pam Shockley-Zalabak hosted review sessions this week and last week designed to encourage discussion of possible topics raised by HLC reviewers.
In addition to the meetings, Shockley-Zalabak encouraged faculty and staff to read the documentation submitted by UCCS to the HLC. That documentation includes the university's assurance argument, appendices to and summaries of the argument as well as the 2012-2020 Strategic Plan 2016 Midpoint Review.
This year's HLC visit is unlike any other she's seen, Shockley-Zalabak said. Members of the HLC review team will meet only briefly with UCCS leadership  and will instead spend most of their visit with faculty, staff and students.
"Your role in the process is more important than ever," Shockley-Zalabak said at an Oct. 24 preparation session. "For them to get a sense of our campus, it must come from faculty, staff and students."
Anyone who attends one of the HLC meetings can bring documentation to reference during the meeting, she said. She encouraged participants to be eager to answer any of the reviewers' questions and to offer specific examples from their areas, if possible.
All documents, as well as other information about the HLC visit, are available at http://www.uccs.edu/hlc
Questions posed at review sessions and answers offered by participants follow.
Q: How has UCCS changed in the past 10 years?
A: The changes at UCCS have been for the better. Virtually every facility has been improved, the quality of the institution has improved, and we continue to respond to the community by offering degree programs that are needed. (Jennifer Fisher, associate director of scholarship programs, Office of Financial Aid/Student Employment)
Q: What are the best and worst things about UCCS?
A: The best thing is the strong sense of community. The worst? Parking. (Heather Kling, program manager, Office of Veteran and Military Student Affairs)
The best thing about UCCS is its size – the ability to get significant projects done and try new things. (Linda Kogan, sustainability director)
UCCS has a spirit of entrepreneurship and a can-do attitude, with close ties to the community. (Melinda Haggeman, executive director, Office of Development)
There is lots of room to try new ideas, and not a lot of barriers. But you have to be strategic and resourceful to find infrastructure and resources. (Kee Warner, associate vice chancellor, Academic Affairs)
There is a real sense of belonging and community here, and I know that what I do is valuable. I do wish we had more support for research. (Barbara Prinari, associate professor, Department of Mathematics)
Q: Do you have the resources you need to do your job?
A: Everybody is stretched thin, but we've been able to manage our resources and fund growth. (Eric Nissen, marketing and communications specialist, College of Business)
We have lots of opportunities to think creatively about collaboration. (Brad Bayer, executive director, Student Life and Leadership)
UCCS faculty and staff are very collaborative and creative. We could all do more, and do it more easily, if we had more resources, but we develop strategic planning now that is effective. (Barbara Gaddis, assistant vice chancellor, Student Success and Retention)
Q: How is morale at UCCS?
A: My opinion here is valued, and we operate with a shared governance model. The chancellor and the leadership team are transparent and connected to the campus community. (Jennifer Fisher, associate director of scholarship programs, Office of Financial Aid and Student Employment)
I still have a sense of awe and pride, that "Wow, I work at UCCS. I was invited into this environment." (Anja Wynne, senior program manager and analyst, Office of the Vice Chancellor for Administration and Finance)
Q: What are you doing to improve student retention at UCCS?
A: Our Excel Centers saw more than 100,000 visits last year. Students who use the centers are retained at rates of 15-20 percent higher than other students, have higher GPAs and become part of the UCCS academic community. (Barbara Gaddis, assistant vice chancellor, Student Success and Retention)
We have added positions for student employment, and that helps with retention, too. (Megan Bell, executive director, Auxiliary Community and Learning Initiatives)
Our new program of texting students allows one-to-one conversations. About 85 percent of first-year freshman opted into the text message program, and 95 percent of transfer students. (Greg Hoye, marketing director, University Advancement)
Related Posts: