When UCCS experienced record fall enrollment, Steve Horner was the guy who worked nights and weekends to ensure move-in day for more than 1,700 students went smoothly.
Many may know Horner, assistant director of operations, Residence Life and Housing, from the various committees he's involved in or by seeing him at one of the many campus events. His involvement in the campus community and work ethic are one of the many reasons behind his employee of the third quarter award, according to nominators.
Horner is a member of the Campus Coordinated Response Team, Emergency Preparedness Advisory Committee, and THINK – an alcohol and other drug prevention committee. He is also an advocate for the SaVE Act on campus, which aims to prevent campus sexual violence.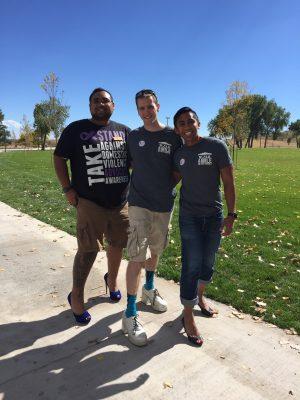 Besides committee involvement, Horner brings spirit to many campus events. He is known to put on a pair of high-heels for "Walk a Mile In Her Shoes" which is a mile-long walk to raise awareness about domestic violence.
"I love being able to interact and educate the community at the different events." Horner said.
Amanda Allee, director of student and judicial affairs, Office of the Dean of Students nominated Horner for the award, saying, "Steve is collaborative, student focused, and dedicated to building inclusive, enriching environments for everyone."
Allee can count on him to be there for a morale boost – whether that be a smile, joke, words of encouragement, or when all else fails, a piece of candy.
Horner regularly interacts with students in order to make their lives better. Whether it is a roommate conflict or advice for the resident assistant, Horner is there to help.
Horner is a two-time alumni and 12-year (part-time and full-time) UCCS employee. Ralph Giese, director, Residence Life and Housing, said: "Steve is dedicated to serving this university like no other person I know. I think of him as our campus sponge, he has been around to soak up knowledge, history, experiences and can fit in anywhere!"
Horner enjoys the close-knit campus community. He often volunteers with commencement, saying "It's awesome being able to see the students grow from move-in date all the way to graduation."
Christopher Mellott, residence hall manager, Office of Residence Life and Housing, said:  "Steve is the oil that keeps our office moving, he brings excellent work, a supportive personality, as well as a sense of humor that would go unrivaled in most comedy clubs."
Horner will receive a certificate, day of administrative leave, $100 stipend, three months of free and reserved campus parking and a $40 voucher at the UCCS Bookstore.
Want to nominate someone you know who makes a difference on campus? Visit http://www.uccs.edu/staff/employee-awards/employee-of-the-quarter.html.