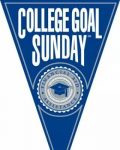 Students and their families who want assistance filling out federal financial aid forms will find professionals ready to help during College Goal Sunday Nov. 13 at UCCS.
The UCCS Office of Financial Aid, Student Employment and Scholarships will again host College Goal Sunday, 1-3 p.m. Nov. 13 in the Columbine Hall second-floor computer labs.
Students and family members are encouraged to bring their Social Security number, a state-issued ID or alien registration card, 2015 tax forms, 2015 untaxed income records, 2015 bank statements and 2015 business and investment information.  Participants also are encouraged to register for a FSA ID before Nov. 13.
College Goal Sunday is a national volunteer organization that helps students and their families complete the Free Application for Federal Student Aid, or FAFSA. College Goal Sunday has been helping Colorado families for 10 years.
UCCS is the only Colorado Springs location hosting College Goal Sunday this year.
This year, the federal government changed the opening date for the FAFSA to Oct. 1, an earlier date intended to make filling out the application easier. Learn more about changes to FAFSA here.
For information: www.collegegoalcolorado.org