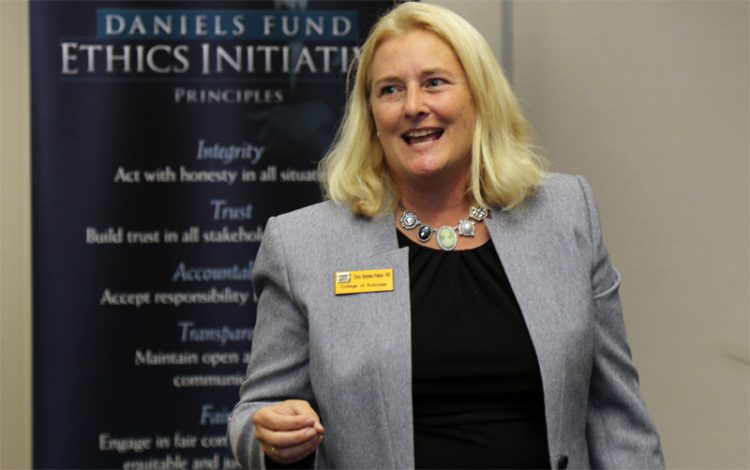 Editor's Note: This article originally appeared in the Nov. 10 edition of CU Connections
On more than one occasion, a former student has told Tracy Gonzalez-Padron, that her efforts to promote ethics education have served them well. One MBA student said he had an ethical problem at work and that if he had not attended Gonzalez-Padron's class, and experienced the focus on ethics in the MBA program, he wouldn't have recognized the incident as an ethical problem, nor would he have known how to handle it.
"I hear from people all of the time that they just had a problem at work and it reminded them of something we talked about, and it shows we made a difference," said Gonzalez-Padron, director,  Daniels Fund Ethics Initiative and associate professor in the College of Business.
Gonzalez-Padron came to UCCS in 2008. That same year, she became involved with the push to bring the Daniels Fund Ethics Initiative to the campus.
"Venkat (Reddy, dean of the College of Business and associate vice chancellor for online education) put out a call to anyone interested in ethics to help prepare a grant proposal and I raised my hand," she said. "I'm not sure how many were interested, but I saw that the ethics grant allowed me to make a difference and that's what I really want to do."
The Daniels Fund Ethics Initiative Collegiate Program partners with 10 business schools and one law school to strengthen principle-based ethics education in Colorado, New Mexico, Utah and Wyoming.
Gonzalez-Padron had a long professional career in the corporate world and only decided to earn her Ph.D. in her 40s.
"Throughout my business career, I really loved developing staff and co-workers and helping, and so I started teaching in addition to working and found that I really enjoyed it," she said. "So when an opportunity opened up, I took a year long position at Ferris State University. Someone suggested that I get my Ph.D., and I applied at Michigan State University and got in."
After earning her degree, she began looking for a permanent teaching position. The University of Colorado was attractive for several reasons. First, Eric Olson in the College of Business is well-known in the marketing field and she was told she would fit in well at the college and with her colleagues. She also wanted to teach in a place where she could make a difference. At larger universities, she said, you're often just another faculty member. In addition, one of the members of her dissertation committee told her of the Daniels Fund and an opportunity to focus on ethics in the region.
"I thought this was perfect because I would be able to choose the kind of research I wanted to do," she said.
Finally, she said, she visited the campus on a "beautiful September sunny day and recognized that the quality of life in Colorado Springs was a reason for leaving Michigan."
"I loved corporate. I loved what I did in the business world, but what I find is that working as a professor, you're not only sharing your knowledge with the students, but you are learning from them. They are always challenging you; they're always seeking for you to be up to date. There's always a feeling of accomplishment in this role."
1. How does the Daniels Fund Ethics Initiative at UCCS work to instill ethics in students and how does the initiative connect with the community?
The Daniels Fund Ethics Initiative at UCCS allows us to foster an interest in ethics education that we couldn't do normally and it does this in three ways.
First, we encourage ethics to be incorporated in the classrooms throughout the campus and we do that by giving the faculty the tools or resources to develop materials specific to their disciplines. Ethics are involved in every single discipline and no matter what a person's major, they have to realize that they likely will work for an organization where there may be pressure to do something that is not the right thing to do. We empower faculty to learn or prepare materials and that's why we have ethics fellows – seven new ones this year. The fellows act as champions by developing these materials, but what also happens is that their enthusiasm for ethics permeates to the students.
The second way is student engagement. We find that classroom learning is great, but when a student has the opportunity to apply it or demonstrate ethical decision-making or ethical leadership, the learning is reinforced. Our students are able to network with the business community or people in their profession that can either be mentors or possible employers. We also offer all kinds of speaking engagements where students don't just listen, but also meet with the speaker in small groups. We host a business ethics case competition – we just had one on campus on Nov. 3. We sponsor UCCS students to compete in regional and national competitions, and attend conferences or other events where they explore ways of showing ethical leadership or ethical decision-making. Along with that, we have a student organization called the Student Center of Public Trust that focuses on ethical leadership.
The third path is through outreach. The Daniels Fund has given us additional funding and we are now the hub for the Southern Colorado Higher Education Consortium, which is composed of 10 universities and community colleges, including UCCS. We travel to each campus to conduct a workshop on teaching ethics.
2. How has the initiative evolved during your tenure and what are your future goals for the program?
I've been director since the beginning, and Venkat Reddy also has been involved since the start. Liz Moore, our program manager,  joined us in the second year of the program. None of the people from the original schools involved really envisioned what it was going to be and it took us awhile to feel around and see how we could make a difference. One of the biggest turnarounds when it comes to scaling the program outside of the College of Business is the fellows program. Now we have fellows in every single college and throughout the campus, and that has made a huge difference.
As for the future, we've just changed the
website
so that we can target our focus – ethics in technology, for instance, as the National Cybersecurity Center comes to Colorado Springs – the prevalence of drones and even social media. We're creating a big focus on those areas with different organizations or communities, either at UCCS or further from UCCS.
Another focus is ethics in sport because, of course, Colorado Springs is the hub of the Olympics and national governing bodies and collegiate programs. We're especially doing a lot on ethics and fraud – marketing fraud, accounting fraud – and organizational ethics, especially good examples that reinforce an ethical culture. We also are focusing on behavioral ethics, which talks about more personal ethical decision-making and the recognition of why good people do bad things and how to prevent falling into those traps.
I think we've found our groove over the past seven years so we can target the topics and issues that resonate most with our community. We don't want ethics to be boring.
3. You mentioned this year's seven faculty members who will serve as UCCS Daniels Fund Ethics Initiative Fellows. Who are these ethics experts?
Our website calls them ethics experts, but they are actually experts in ethics education. There are two sets of experts: One is our UCCS ethics fellows, and this year, we've instituted, with the Southern Colorado Higher Education Consortium, the ethics champions. These ethics champions have the same role as our fellows, which is to champion ethics in their discipline. What that means is that they might have projects – for instance, a class they want to develop — or they want to find more material that they want to use in their courses. They also promote student engagement opportunities and we collaborate with them during events.
So that's what the fellows do. They look at specific projects or programs, but they also are catalysts for students to realize that ethics are cool. We want students to know that it's neat to get involved in the ethics stuff because it will make them a better person and also a better employee when they are out in the workforce. Studies have shown that workers will experience an ethical issue or dilemma within the first 18 months on their job.
This year at UCCS, we have amazing fellows. For the first time, we have a fellow from the library. Part of what the fellows do is present at roundtables attended by faculty members and staff from UCCS, Pikes Peak Community College, and the United States Air Force Academy. Fellows share what they have done or learned. In October, Carla Myers from the Kraemer Family Library presented a talk, "Cut and Paste," about the reuse of copyrighted material. That was an interesting topic for a lot of faculty.
Our nine ethics champions from the Southern Colorado Higher Education Consortium come from different disciplines as well, including accounting, management, philosophy and nursing. Some faculty from those colleges and universities came to an event we had in April that focused on the future of drones. Three of the schools sent teams to compete in our UCCS business ethics case competition, with the ethics champion coaching the students.
4. Along with business ethics, your research interests include corporate responsibility. What are you currently researching? 
One of the things I have found is that the more I do this, the more my research has dovetailed. In addition to corporate social responsibility, I'm doing a lot on sustainable supply chains. Right now I'm also working on an article about the ethics in the sharing economy. More and more I am being invited to be a panel member at conferences because a lot of my research is in the role of corporate social responsibility and stakeholder theory, which is about the responsibilities that corporations have to stakeholders and sustainability. We research what we care about.
5. You've mentioned that students have thanked you for your work. Is there one that you remember most?
The one that comes to mind happened when I was still in the business world. I used to do Junior Achievement, which goes back to the fact that I always feel we should be giving back. I have a framed quote from a kindergarten class in Grand Rapids, Michigan. The school was in the city and not a wealthy area. I remember a lot of the kids. I had to do the class in Spanish because they didn't speak English and it was winter and they didn't have coats. They gave me this framed quote, signed by each of them, and it's really cute. It says, "In a hundred years from now, it will not matter what my bank account was, the type of house I lived in or the kind of clothes I wore, but the world will be a much different place because I was important in the life of a child." That sums up why I do this. I want to make a difference.
Members of the Southern Colorado Higher Education Consortium
University of Colorado Colorado Springs
University of Colorado Denver
University of Colorado Law School
Colorado Mesa University
Colorado State University
University of Denver
University of Northern Colorado
New Mexico State University
University of New Mexico
University of Utah
University of Wyoming
2016-2017 Fellows
Jill Bradley-Geist, associate professor of management, College of Business
Andrea Hutchins, associate professor of nutrition, Helen and Arthur E. Johnson Beth-El College of Nursing and Health Sciences
Carla Myers, assistant professor, faculty director of Access Services and Scholarly Communications, The Kraemer Family Library
Regina Winters, senior instructor, School of Public Affairs
Patty Witkowsky, instructor and coordinator, Student Affairs in Higher Education, College of Education
Kimbra Smith, assistant professor of cultural and applied anthropology, Department of Anthropology
Jugal Kalita, professor, Department of Computer Science, College of Engineering and Applied Science
— By Cynthia Pasquale, University Relations, Office of the President