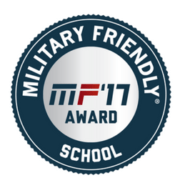 A publisher of several military-directed publications included UCCS on its list of Military Friendly Schools. The list was released Nov. 10.
For the  eighth consecutive year, Pittsburg, Pennsylvania-based Victory Media, tapped UCCS for its support of the military community. UCCS was one of 1,273 schools nationwide selected for the honor. CU Denver and CU Boulder also made the list.
This year, Victory updated its scoring methodology to include three data sources: publicly available data from federal agencies, personal opinion data from veteran employees or students, and proprietary survey data from participating organizations. Final results were determined by combining an organization's survey scores with an assessment of the organization's ability to meet minimum thresholds in six areas: student veteran retention, graduation, job placement, loan repayment, persistence and loan default rates.
"Education is vitally important for military service members and veterans transitioning to the civilian world," Phillip Morris, director, Office of Veteran and Military Student Affairs, said. "As an office and as a campus, we are committed to helping service members, veterans and their families reach their personal goals."
The 2017 Military Friendly Employers and Schools lists are available at https://militaryfriendly.com  and will be printed in the December issue of G.I. Jobs and in the annual Guide to Military Friendly Schools. Read more about Military Friendly ratings, methodology and awards at https://militaryfriendly.com.