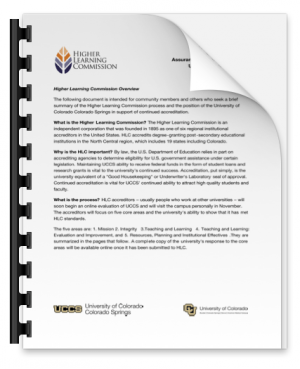 As part of the UCCS Higher Learning Commission reaccreditation process, a review team will visit the campus Nov. 14-15.
UCCS faculty, staff and students will have opportunities to meet with the review team, and UCCS leadership is encouraging attendance at those meetings. To help faculty and staff prepare for those meetings, Chancellor Pam Shockley-Zalabak hosted preparation sessions in October designed to encourage discussion of possible topics raised by HLC reviewers.
Shockley-Zalabak encouraged faculty and staff to read the university's assurance argument, appendices to and summaries of the argument as well as the 2012-2020 Strategic Plan 2016 Midpoint Review. All documents, as well as other information about the HLC visit, are available at www.uccs.edu/hlc
The Chancellor's All-Campus Forum on Nov. 7 will feature a review of the HLC visit schedule. See the schedule here. The forum begins at 10:30 a.m. in UC 302.
On Nov. 14-15, members of the HLC review team will meet only briefly with UCCS leadership and will instead spend most of their visit with faculty, staff and students, Shockley-Zalabak said.
"Your role in the process is more important than ever," Shockley-Zalabak said at an Oct. 24 preparation session. "For them to get a sense of our campus, it must come from faculty, staff and students."
Anyone who attends an HLC meeting can bring documentation to reference during the meeting, she said. She encouraged participants to be eager to answer reviewers' questions and to offer specific examples from their areas, if possible.
Questions posed at preparation sessions and answers offered by participants follow. To see other questions and answers, click here. Basic questions about the HLC are available here.
Q: What is the climate for diversity on campus?
A: It's improved in the past 10 years. We now have greater ethnic diversity, more military and veteran students, and we have created MOSAIC, the LGBT resource center, the Matrix Center for   Advancement of Social Equity and Inclusion, and the UCCS Global Intercultural Research Center (GLINT). (Jesse Perez, MOSAIC assistant director and LGBT program director)
We have a very proactive approach to diversity, and that's commendable. (Linda Kogan, director, Office of Sustainability)
Q: How do you use learning outcomes to drive decision making?
A: We do a yearly review. For example, after the semester starts in the fall, we ask what worked and what didn't work in our area. We then use that feedback to improve. (Jevita Rogers, director, Financial Aid and Student Employment)
Q: What about faculty and staff retention?
A: We support each other in extraordinary ways. That creates a sense of community, and that's hard to leave. (Benek Altayli, director, Mental Health Services)
Q: How can we continue to grow and maintain quality?
A: We continue to better understand what we do, and assessment is better than it was 10 years ago. (Kee Warner, associate vice chancellor, Academic Affairs)
Q: What are the best and worst things about UCCS?
A: We have a collaborative way of solving problems. (Gary Reynolds, associate vice chancellor, Facilities Services)
Interactions with the students. It's a great environment to be in. (Kirk Moore, interim managing director, Information Technology)
The culture. This place has a real positive, can-do, roll-up-your-sleeves-and-get-it-done type of attitude. (Eric Nissen, marketing and communications specialist, College of Business)
Culturally, this campus has been student-centered and a small community. As we grow, will that be a loss? How can we keep the classroom sizes in that tradition but also add activities and events for a growing campus? (Benek Altayli, director, Mental Health Services)
Our can-do attitude. (Martin Wood, senior vice chancellor, University Advancement)
Q: Is there a downside to growth?
A: One downside is the loss of a sense of community, where knowing everyone on campus is becoming more difficult. (Anthony Cordova, director, MOSAIC and MOSAIC Gateway Program)
Q: What technological changes have been made?
A: The facilities department has met with deans to make needed physical changes to classrooms in order to address changes in how faculty teach. (Gary Reynolds)
Q: Are you using the strategic plan?
A: The campus was invited to participate in both the drafting of the 2012-2020 Strategic Plan and the mid-point revision. We have used the plan to create goals for outcomes in residence life and learning. (Megan Bell, executive director, Auxiliary Community and Learning Initiatives)
Q: Do you have the resources you need to do your job?
A: We work very hard. Student outcomes show we make the most of our resources. (Terry Schwartz, interim provost).