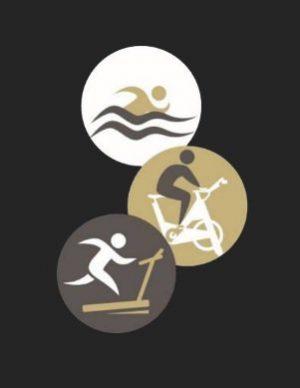 UCCS Campus Recreation will host its first-ever indoor triathlon Nov. 5 in the Gallogly Recreation and Wellness Center.  This hour-long triathlon is open to the both the campus and Colorado Springs communities.
The triathlon will begin at 9 a.m. and will consist of a 10-minute swim in the rec pool, followed by a 30-minute cycling session, finishing with a 20-minute run on the treadmills.
There are five participant categories for ages 18 to 50 and above. Participants can race individually or as a team. Teams can consist of two to three participants in any combination of gender and age.
Participants are encouraged to do their best and have fun.
"I am excited to be able to offer more programs for the students and community," said Brooke Freudenhammer, aquatics and fitness coordinator, UCCS Recreation and Wellness Center. "It's so great to watch people have fun while being active."
Prizes will go to the top male and female athlete, meaning the one who travels the most distance during the hour.
Registration is $25 through Nov. 4 and $30 Nov. 5. Students enrolled in the Gateway Program Seminar course will pay half price.
Freudenhammer hopes to make the indoor triathlon an annual event and also create "Tri-the-Bluffs," a more traditional triathlon, possibly next year.
Visit the triathlon page for registration details.