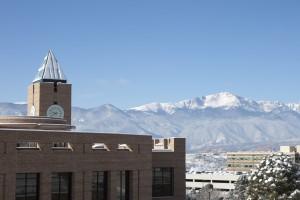 The Kraemer Family Library will celebrate the 20th anniversary of the library's naming Nov. 2, honoring Sandy and Dorothy Kraemer.
The library will host a reception 3:30-5 p.m. in the 2nd Floor Apse. Cake and refreshments will be served.
"The Kraemers' gift has supported library collections and programming for 20 years, and we are grateful for their continued interest in helping us serve future generations of UCCS students," said Martin Garnar, library dean.
University officials designated the building the Kraemer Family Library to honor former CU Board of Regents member and university benefactor Sandy Kraemer.
For historic photos of the library, click here.