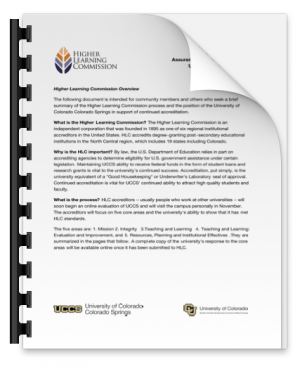 Recent visits with faculty and staff about the upcoming Higher Learning Commission visit to UCCS have prompted many questions about the visit's purpose and what faculty and staff can both expect and what do to prepare.
In an effort to help the campus community prepare, the questions — and sources to answer — will become a regular feature in Communique. If you have questions that you'd like to see answered, please email [email protected] or contact Tom Hutton, 255-3439.
Q – How can I prepare for the HLC visit?
A  –  1. Attend an open forum designed to share information about the upcoming visit. Two sessions remain:
9 a.m. Oct. 3 in University Hall Room 132 and
3:30 p.m. Oct. 17 in Osborne Science and Engineering K-12 room.
Review the UCCS mission, vision and goals. See http://www.uccs.edu/chancellor/initiatives/vision-and-values-of-excellence.html
Review the UCCS Strategic Plan and its update at http://www.uccs.edu/chancellor/initiatives/strategic-plan.html
Review one or more of the assurance argument summaries. The full arguments are still being revised and are expected to be available for review within a few weeks. Summaries of the assurance argument answers are available by clicking on the PDF attachment here.
Be prepared to interact with the HLC review team (see 1, 2 and  3)
Q – Who is the Higher Learning Commission (HLC)?
A – The Higher Learning Commission is a regional accrediting body for universities. The team that will visit UCCS in November will consist of faculty from other universities with experience in evaluating campuses on a set of criteria. The visit by that team is part of an overall evaluation process to ensure the quality of the degrees and programs offered by the university. The visit also provides an opportunity for faculty, staff and students to revisit the UCCS role, mission and plans for the future. For more information, visit https://hlcommission.org/
Q – Why is the HLC visit important?
A – Continued accreditation is vital for UCCS' continued ability to attract high quality students and faculty. The U.S. Department of Education relies in part on accrediting agencies to determine eligibility for U.S. government assistance under certain legislation. Maintaining UCCS ability to receive federal funds in the form of student loans and research grants is vital to the university's continued success. Accreditation also means students' credits are transferrable. Accreditation, put simply, is the university equivalent of a Good Housekeeping or Underwriter's Laboratory seal of approval.
Q – When will the HLC team be here?
A – Nov. 14 and 15