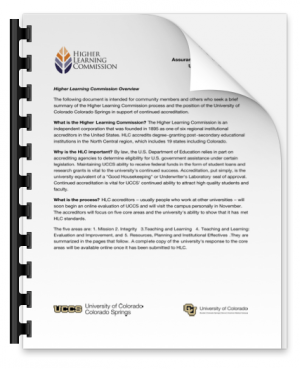 Four mock interview sessions to help faculty and staff prepare for an upcoming visit by the Higher Learning Commission are scheduled for Oct. 20-25.
The purpose of the mock interviews is so faculty and staff can hear questions that HLC reviewers may ask and have the opportunity to formulate and discuss answers as a group.
The sessions are:
Faculty
Noon- 1 p.m., Oct. 20, University Center 302
3:30 p.m. – 4:30 p.m., Oct. 25, University Center 302
Staff
2 p.m. – 3 p.m., Oct. 21, University Center 302
9 a.m. – 10 a.m., Oct. 24, University Center 302
Chancellor Pam Shockley-Zalabak encouraged all faculty and staff members to attend a session and to plan on actively participating in the HLC process. A team of HLC reviewers is expected to be on campus Nov. 14-15 as part of the organization's 10-year accreditation process of the campus.
Need more information about the HLC visit and its importance?  Click here.
To see a summary of the criteria HLC will use to evaluate UCCS and the arguments that the university will put forth, click here.
Related Posts