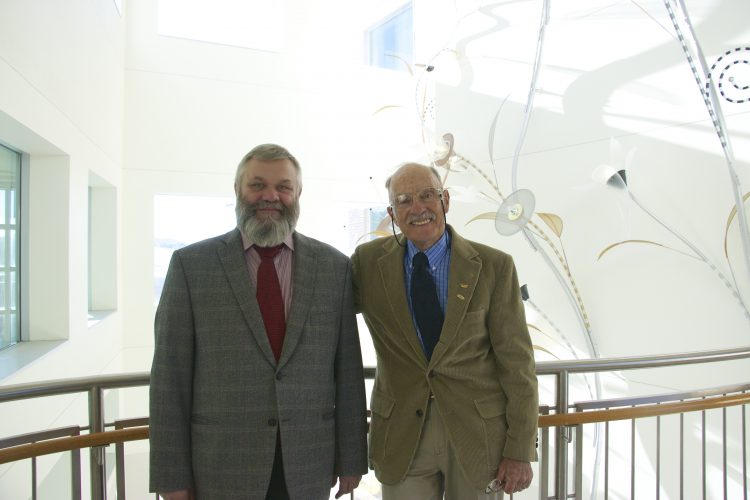 Sept. 1 was a memorable day for Andrei Iarygin. It was the official "Day of Knowledge" in Russia, and it happened to be the first day Iarygin presented to his class at UCCS.
Out of 600 applicants, Iarygin was one of 18 selected from Russia for the Fulbright scholarship this year. He joins longtime friend Melvyn Weissman, lecturer, History Department, in co-teaching Russian history at UCCS.
"It's a great honor to be a part of this program," Iarygin said.
The Fulbright program was founded in the U.S. in 1946 to provide merit-based grants for international education for students, teachers and others.
Iarygin and Weissman first met in 1993 at a conference in St. Petersburg, Russia while Weissman was a Fulbright scholar. Weissman has made numerous trips to Russia to attend conferences and teach at Mari State University. In 2004, Weissman spoke at Mari State University's graduation.
In the classroom, the two discuss the tendencies and lesser-known developments of American and Russian history with their UCCS students. Unlike a traditional textbook history course, the course provides real life experiences between the two professors.
Iarygin teaches American history at Mari State University in Russia, specifically on the era of President James K. Polk. Polk was president from 1845-1849.
Iarygin said he hopes to take American teaching styles back to Russia. Iarygin and Weissman actively engage with their students in class, emphasizing that teaching is a mutual experience between professors and students. Mari State University opened its doors on Sept. 1, 1972. The university is located about 11 hours east of Moscow.
Mandy Hansen, director, UCCS Office of Global Engagement, said, "I'm really excited about this collaboration because it's a direct example of how internationalization is happening on our campus…it's huge for students, faculty and staff."
History students are getting an aspect of the study abroad experience right at home by having an international professor at UCCS, Hansen said.
"It's great to have a Russian professor co-teach – getting the perspective of a native Russian on his homeland's history is amazing," said Stefan Huddleston, UCCS history student.
Iarygin will teach for the remainder of the fall semester then return to Mari State University. Both Iarygin and Weissman said they are already looking forward to their next opportunities to work together.