Chancellor Pam Shockley-Zalabak is encouraging UCCS faculty and staff members to attend one of several meetings planned in September and October to prepare for the Higher Learning Commission's expected campus visit in November.
UCCS is undergoing its regular, periodic accreditation with the Higher Learning Commission. Learn more about the HLC here.
"Accreditation is both a distinguishing factor and is an opportunity for us to ensure we are meeting – or surpassing – the high standards expected of ourselves and others," Shockley-Zalabak said in a December 2015 memo. "It is vital that we present ourselves honestly, accurately and with plans for adapting to a changing educational environment."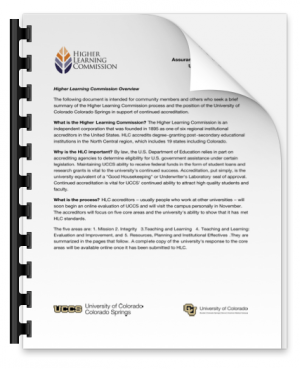 To help the campus prepare for the HLC visit, faculty and staff are invited to these one-hour meetings (see schedule below). At the meetings, the chancellor will  discuss the accreditation timeline, the assurance arguments and other documentation that is integral to accreditation, the potential schedule for the HLC reviewers' November visit and potential questions and answers for the reviewers who will be here Nov. 14-15.
Their schedule is expected to include a campus tour, an evening event with members of the community as well as campus meetings with faculty, various staff and leadership members, students and others, as well as members of the University of Colorado Board of Regents, Shockley-Zalaback said at the Sept. 19 meeting. She noted that HLC reviewers spent three days on campus in 2006, during the last UCCS accreditation process.
Shockley-Zalabak encouraged faculty and staff members to become familiar with one or all of the university's assurance arguments, then attend one of the Nov. 14-15 sessions related to those arguments. The full arguments themselves are still being revised and are expected to be available for review within a few weeks. Summaries of the assurance argument answers are available by clicking on the PDF attachment here.
"It makes these sessions – and for people to be prepared – very important," she said.
Chancellor's HLC Update conversations around campus:
| | | |
| --- | --- | --- |
| Date | Time | Place |
| Mon, Sept 19 | 9a – 10a | KFL EPC Room #304C |
| Thu, Sept 29 | 10a – 11a | Columbine Room #303 |
| Mon, Oct 3 | 9a – 10a | University Hall Room #132 |
| Mon, Oct 17 | 330p-430p | Osborne K-12 |
Following this round of campus conversations, there will be mock interviews for faculty and staff members. That schedule is as follows:
| | | | |
| --- | --- | --- | --- |
| Group | Date | Time | Place |
| Staff Mock Interview | Thu, Oct 20 | 12p-1p | UC302 |
| Faculty Mock Interview | Fri, Oct 21 | 2p-3p | UC302 |
| Staff Mock Interview | Mon, Oct 24 | 9a – 10a | UC302 |
| Faculty Mock Interview | Tue, Oct 25 | 330p-430p | UC302 |