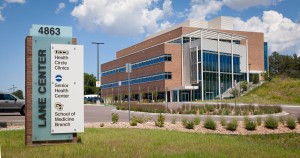 Faculty and staff who use Tricare, the health insurance program for military members and families, can now access primary care services at the UCCS HealthCircle clinics within the Lane Center for Academic Health Sciences.
Mike Bigelow, senior executive for clinical activities, HealthCircle Clinics, announced the completion of agreements with Tricare which covers 9.5 million people worldwide, including active duty service members, National Guard and Reserve members, retirees, their families, survivors and their families.
Effective immediately, UCCS faculty, staff and students — as well as other members of the community who have Tricare — can receive primary care services at the HealthCircle clinics. These services include preventive care, acute and chronic illness management, routine physicals and checkups, vaccinations or routine medical tests at the HealthCircle Primary Care Clinic, one of four clinics that is part of the HealthCircle.
The agreement with Tricare and the HealthCircle Clinics is designed to provide greater access to health care services for UCCS community members, Bigelow said. The HealthCircle Primary Care clinic is unique in that it is operated by nurse practitioners who use a holistic care model to assist patients. The clinic focuses on disease prevention and wellness and works closely with the other HealthCircle Clinics to enable patients to reach health goals.
UCCS HealthCircle opened in conjunction with the Lane Center's grand opening in February 2014. It includes the Primary Care Clinic, Aging Center, Center for Active Living, Peak Nutrition Clinic and the Veterans Health and Trauma Clinic.
"We are excited to join with Tricare to expand the health care offerings available to the UCCS community," Chancellor Pam Shockley-Zalabak said. "The availability of comprehensive health care services at the HealthCircle allows us to be healthier and more productive."
The Primary Care Clinic now accepts the following insurance plans
Tricare
Anthem (PPO, High Deductible Plan)
Anthem CU Exclusive Plan
Kaiser
Multiplan
United Healthcare
Rocky Mountain Health Plans
Cigna
Medicare
For more information about the HealthCircle, to arrange a tour or schedule an appointment, visit http://www.uccs.edu/healthcircle or call (719) 255-8001
Related Posts