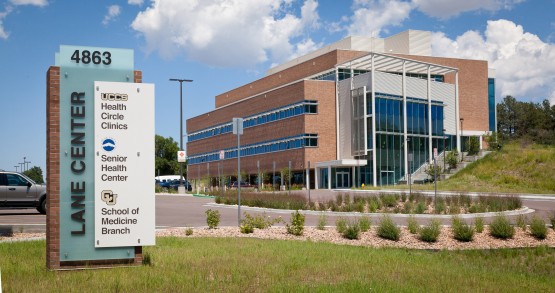 The Colorado Springs Regional Business Alliance awarded the UCCS Lane Center for Academic Health Sciences its Excellence in Healthcare Innovation Award at a Nov. 1 gala at The Broadmoor International Center.
Chancellor Pam Shockley-Zalabak accepted the award on behalf of the university. More than 20 UCCS representatives attended the gala.
For a complete list of winners, visit http://www.coloradospringsbusinessalliance.com/gala/awards
The Lane Center for Academic Health Sciences is the first UCCS building on the revitalized North Nevada corridor. It opened in February and houses clinics that operate under the name HealthCircle, a branch of the CU School of Medicine, and a Peak Vista Community Community Health Centers clinic. An adjacent Sports Medicine and Performance Center that will serve Olympic athletes and wounded military veterans is part of the City for Champions proposal.
UCCS faculty and staff, as well as members of the general public, are eligible to use the HealthCircle clinics. The clinics include a Primary Care Clinic, the Aging Center, the Center for Active Living, the Peak Nutrition Clinic and the Veterans Health and Trauma Clinic. For more information, visit http://www.uccs.edu/healthcircle.
Related articles: