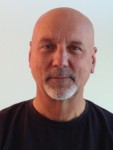 A clinical therapist with 14 years experience helping veterans, families and civilians deal with mood disorders or psychological trauma is the June UCCS HealthCircle Community Education Series speaker.
Charles Knoeckel, clinical therapist, UCCS Veterans Health and Trauma Clinic, will deliver "Managing Stress, One Breath at a Time" at 5:30 p.m. June 9 at the Lane Center for Academic Health Sciences, 4863 North Nevada. The event is free and open to the public.
Knoeckel will explain how individuals can influence the autonomic or involuntary nervous system and the human body's reaction to stress. Breathing techniques are one solution.
"Stressful events are largely unavoidable in today's world," Knoeckel said. "Even happy experiences such as marriage, childbirth or moving to a new home create stress. Stress can be influenced to a degree that surprises many people."
Knoeckel earned a master's degree in counseling and human services from UCCS and has worked both in private practice and in community service positions. He is a former member and past chair of the Colorado Licensed Professional Counselor Board of Examiners and has worked as an adjunct professor at UCCS.
This is the third in an ongoing series of community health lectures provided by the UCCS HealthCircle to educate the greater Colorado Springs community on common health issues. Previous lectures touched on improving nutrition and preventing falls.
In February, five UCCS clinics joined to become the UCCS HealthCircle. Located in the Lane Center for Academic Health Sciences, the clinics are the UCCS Aging Center, the Peak Nutrition Clinic, the Center for Active Living, a nurse-managed Primary Care Clinic and the Veterans Health and Trauma Clinic. For more information, visit www.uccs.edu/healthcircle.