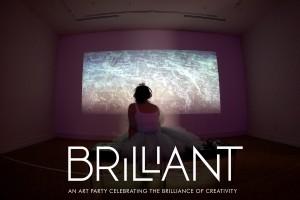 GOCA present its fourth annual art party extravaganza BRILLIANT June 13 at 121 S. Tejon Street in downtown Colorado Springs.
BRILLIANT combines art, technology, mixology, performance, and music to completely transform GOCA 121 and the Nosh restaurant patio into the ultimate party.
In the words of Daisy McConnell, director, UCCS Galleries of Contemporary Art, the experience will be "brilliant." A five-course dinner with five cocktail pairings kicks off the evening of arts celebration that raises funds for GOCA in the process.
This year, GOCA's BRILLIANT will feature new works and original performances by Grupo Folkloric de Pueblo, Pikes Peak Trickers Acrobatic parkour-style dance, Denver-based VJ's Mario Zoots and Jerromie Dorrance, Brazilian dance by Luciana da Silva, sensational drummer Motown, and original installations by UCCS-connected visual artists Matt Barton and Aaron Smith. Award-winning hip-hop artist, playwright, and educator Idris Goodwin will emcee the evening's program and perform. A live auction includes original artwork by artists Jose Luis Torres and Donald Fodness, tickets to Philharmonic concerts, THEATREWORKS season passes, Bearded Lady tattooing services, and more. Party-goers can also sample local artisan spirits and multiple regional micro-distilleries.
BRILLIANT is a creative extravaganza that raises critical financial support needed to realize future gallery programs, exhibits, and innovative collaborations. Money raised at BRILLIANT pays for 2015-2016 exhibits and programs in both GOCA spaces and to the community.
Advance tickets are now available at www.brilliantgoca.com. Tickets for the BRILLIANT dinner + art party start at $99, and tickets for just the art party start at $25. Student tickets are $20 with identification. Discounted dinner + art party four-packs and party-only 10-packs are available. Free parking will be provided in the Plaza of the Rockies garage.
GOCA is a regional hub of contemporary art, culture, and conversation. By featuring world-class artists, hosting artist and expert talks, and offering meaningful events, GOCA engages UCCS students, faculty, staff and Pikes Peak Region community members in contemporary culture and life. www.galleryuccs.org.