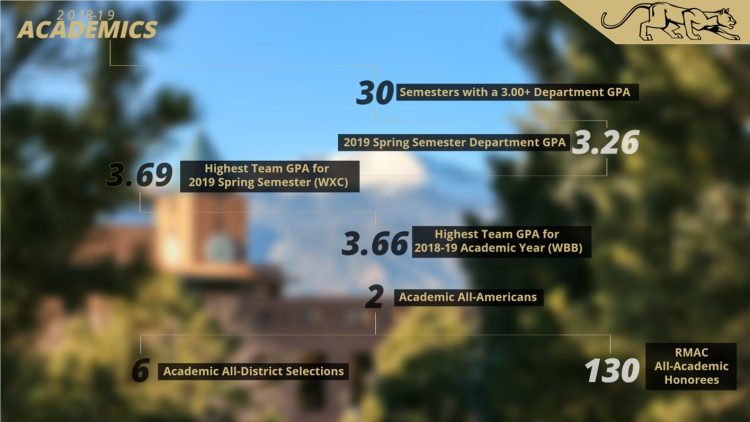 For the 15th straight year and 30th straight semester, the UCCS athletic department earned at least a 3.00 grade point average. The Mountain Lions notched a 3.26 GPA among all 16 NCAA Division II programs for the spring 2019 semester.
Six Mountain Lion teams earned at least a 3.5 GPA during the semester. Women's cross country led all 16 teams with a 3.69 GPA during the spring semester, followed by women's basketball (3.63 GPA), men's golf (3.61 GPA), women's soccer and volleyball (tied-3.55 GPA), and women's golf (3.5 GPA).
"Over 15 years ago, the athletic department set a standard that our student-athletes would, first and foremost, achieve in the classroom," said Nathan Gibson, executive director of athletics. "Our goal has been to maintain a 3.0 department GPA every semester. Since then, thousands of student-athletes have accepted the challenge, performing at the highest level and ultimately making the grade. I am so proud of our student-athletes for maintaining a 3.0+ department GPA for 30 consecutive semesters. I am so appreciative to our amazing student-athletes, but also the UCCS leadership, faculty, staff and all those who have supported our student-athletes along the way. I am also proud of our coaches for recruiting top students and holding academic excellence within their programs in the highest regard. Thank you and congratulations for continuing the 3.0+ GPA streak."
This past semester, track and field student-athletes Kaija Crowe, Will Ross and Skylyn Webb, and baseball student-athlete Cody Norton were selected to the CoSIDA/Google Cloud Academic All-District VI team.
This academic year, more than 130 Mountain Lions were named Rocky Mountain Athletic Conference All-Academic, including 18 to the First Team.
Women's basketball notched the highest GPA for the 2018-19 academic year with a 3.66 GPA. Women's cross country was second with an overall GPA of 3.64. Men's golf (3.61 GPA), volleyball (3.56 GPA) and softball (3.52 GPA) rounded out the top five programs with at least a 3.50 GPA for the year.