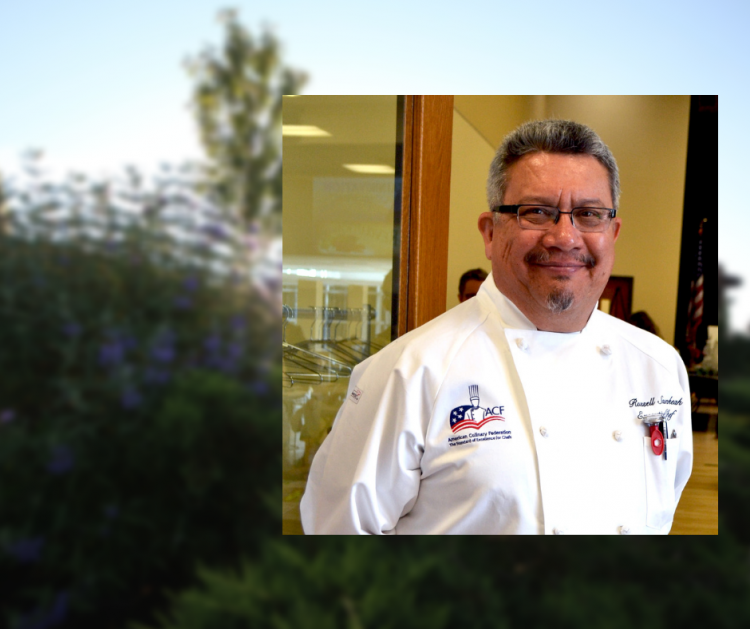 A celebration of life for Russ Saunkeah, 67, former executive chef and associate director of dining services, will be held at 4-6 p.m., on June 14 at the Roaring Fork Dining Hall. He died May 27.
Saunkeah started at UCCS in 2001 as catering director with Sodexo and was named general manger in 2006. When UCCS started internal food service in 2014, he was named executive chef and associate director. He retired in 2018.
Saunkeah was previously executive chef for the Briarhurst Manor in Manitou Springs and served in chef positions in the Virgin Islands, Puerto Rico and the Broadmoor Hotel in Colorado Springs.
The family published the following obituary:
Russell Lee (Russ) Saunkeah died Monday, May 27th, 2019 at his home in Colorado Springs, CO, after a long battle with cancer. 67 y/o (DOB 2-7-52, OKC).

Survived by his wife Lisa Saunkeah of the home; daughter Angela Saunkeah, Denver, CO; son Justin Saunkeah and wife Shelly, Tulsa, OK; son Gabriel Saunkeah, CA; father Jasper Saunkeah, OKC; mother Dorothy Saunkeah, Ada, OK; siblings Bobby Saunkeah and wife, Peggy, Ada, OK; brother Bruce Saunkeah, OKC; sister Anna Lynn Saunkeah Jordan, Ft. Myers, FL; and many cousins, nieces, nephews and pets Coco and Chandler.

Predeceased by his maternal grandparents Ralph and Vivian Reed; his paternal grandparents Jasper, Sr. and Anna Poolaw Saunkeah; uncle Jesse "Papa D" Edwin, Jr. and beloved aunt Vivian "Mamacita" Davis, and cousin Jesse "Ed" Davis, III; and brother in law Jeff Graves.

Russell grew up beginning in Oklahoma, and then moving with his family to Argentina, where his parents were missionaries with the Baptist church. There he learned to play soccer and golf, fell in love with motorcycles, and learned to play the guitar. He and his friend Pat had a band together, and they performed at two functions, emulating their appearance after the Beatles and playing the two songs they knew, "Blowing in the Wind" and "Puff the Magic Dragon". The crowd loved them! He considered Argentina home, for the years that he grew up there, and he was able to go back and visit a couple of times.

He graduated high school Academia Arguello, Cordoba, Argentina, 1970. He considered Argentina home, for the years that he grew up there, and he was able to go back and visit a couple of times. Russ maintained many friendships from his time in Argentina including Patrick McNertney, Greg Ross, Gabriel Alisio.

He briefly attended the University of Oklahoma before moving to California to explore a career in music with his cousin Jesse Ed Davis III.

Colorado, and Colorado Springs in particular, drew him, and in his early 20's landed a job at the Broadmoor with little more than passing skills and knowledge of a particular recipe known in Italy and Monaco that endeared him to the Head Chef. He then moved to Puerto Rico and St. Thomas where managed the kitchens of large resort hotels, at one-point surviving Hurricane Hugo in 1989. Eventually, he moved back to the states and Colorado Springs again, where he worked at the Briarhurst for Chef Siegfried Krauss and his wife Candace, continuing to play soccer, ride his motorcycle, and enjoy his guitar.

It was during this time, living in Manitou CO, that his cousin Eddie began to visit his dreams, encouraging Russell to join him on stage. Thus, began Russell's entrance to professional music, starting with a solo act at a local bar, and moving on to a traveling band out of Oklahoma, the Mama Jama Blues Band, and The Delta 88's, and then finally Tiny Barge and the Big Chill. Russell's love of music, and his guitars, were a center point of his life. Music fed his soul.

Russell married Lisa Sheppard on October 9, 2017, blessing of marriage June 9, 2018.

Russell's last employment was with the University of Colorado at Colorado Springs. He was hired as a catering captain with Sodexo and worked his way up to General Manager before the University made the change to a self-operated food system. He was the first hire of the new Dining & Hospitality department, as Associate Director & Executive Chef in 2014. He remained in this position until he retired in May 2018.

There will be a celebration of Russ' life to be held on June 14th, 2019 at UCCS Roaring Fork Dining Facility at 4:00 p.m.

In lieu of flowers the family requests charitable donations, more details will be made available at the service. Please contact Angela Saunkeah, at asaunkeah@yahoo.com for more information.

The family would like to thank Russ' doctors, oncologists and nursing staff and the hospice angels that assisted in his care and allowed him the dignity, privacy and respect that he deserved, as well as the luxury of time to say goodbye to his family and friends.