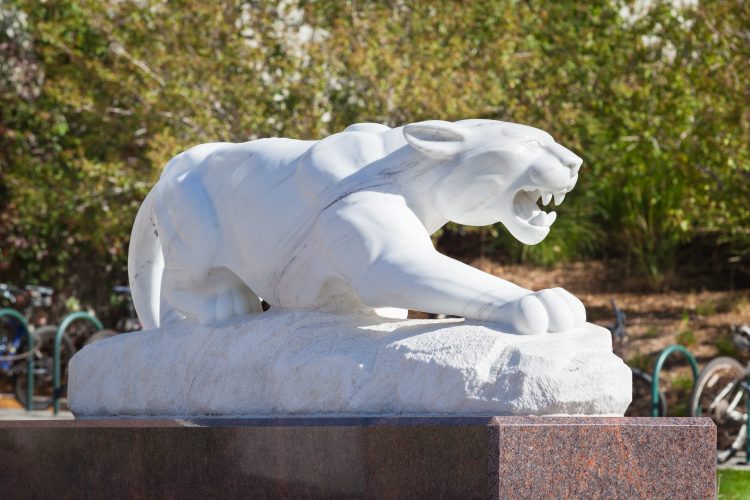 UCCS staff, alumni and students made up six of the 25 Rising Stars recognized by the Colorado Springs Business Journal. Three alumni, two staff members and one current student were recognized as members of the Class of 2019 during the publication's annual awards ceremony March 29 at Stargazers Theater.
The Rising Stars recognizes 25 people younger than 40 for their achievements in business and philanthropy.
Aisha Ahmad-Post, director of the Ent Center for the Arts. As the first director for the Ent Center, Ahmad-Post has overseen the opening of the city's newest performing and visual arts venue. She established the Artist Series, which surpasses industry standards with a nearly 60 percent sellout rate near the end of its second season. Ahmad-Post received the Mayor's Young Leaders Award in October 2018 in the creative industry category.
Meghan Stidd (BS Business '04, MPA '07, Ph.D. Educational Leadership, Research and Policy '12), assistant dean for external relations in the College of Business. Stidd was promoted to her current position in 2018 after she redeveloped the college's Career Development Center. In two years, student use of the center improved 30 percent and she established 100 new connections with employers for business students. Stidd is also a board member of Forever Learning on Wheels, a mobile tutoring service for low-income students, and serves as vice president for Region 6 of the Cooperative Education and Internship Association and the Winter Night Club.
Bree Shellito, community education coordinator at Ent Credit Union. A current communication student, Shellito is the first person at Ent Credit Union to focus on financial education with presentations and resources for schools and organizations to teach young people about finances. She completed the Leadership Pikes Peak's LeadershipNow! Program and is now a member of the organization's steering committee.
Micki Cockrille (BS Business '16), digital marketing and events specialist for Better Business Bureau of Southern Colorado and Colorado Institute for Social Impact. Cockrille is on the board of REACH Pikes Peak and has volunteered with 1 Million Cups and Peak Startup. He is a founder of Aspiring Change Makers of Colorado Springs to inspire young professionals in the future of Colorado Springs.
Mackenzie Maltby-Tamayo (BA English '11), regional director of sales and marketing at Altitude Hospitality Group. Since working her way from server in 2013, Maltby-Tamayo works with seven restaurants and venues in Colorado Springs. She was the 2017 winner of the Colorado Springs Chamber and Economic Development Corporation Community Builder award and is a board member of the Converge Lecture Series.
Alexis Thompson (BS Business '18), client account and marketing manager at Amnet. Thompson moved into a full-time role at Amnet after graduation and already redeveloped the client account management process and revitalized the company's Engineers with Beers networking events. She is also a founder of the Aspiring Change Makers of Colorado Springs.