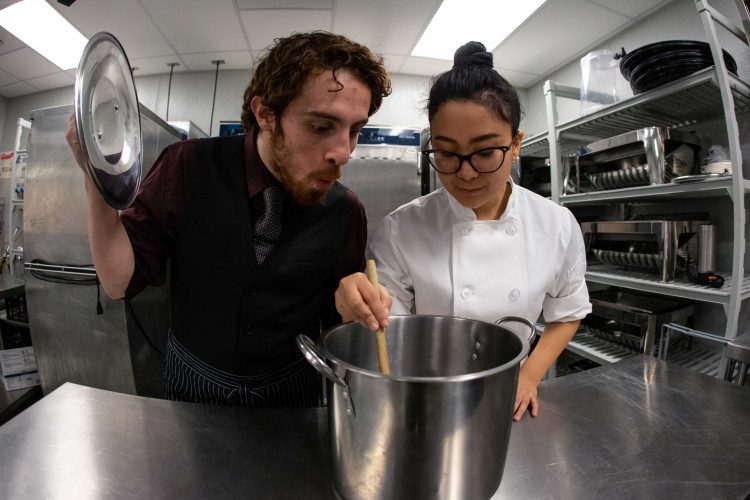 The UCCS Theatre Company will tackle the challenge of running an upstart fine dining restaurant when the comedy "The Art of Dining" opens March 14 at the Dusty Loo Bon Vivant Theater in the Ent Center for the Arts.
The annual student production in the larger space will utilize a working kitchen in the new restaurant "The Golden Carousel." Owners Ellen and Cal, played by students Aranxta Chavez and Sean Sharif, are working to make ends meet in their townhouse-turned-restaurant.
"We've decided to combine two of the most stressful things, performing and cooking, into one show, but we're having a lot of fun in the process," said Kevin Landis, associate professor of theatre and dance and director for the performance. "We don't do a lot of comedy, so this is a chance for everyone to enjoy and branch out into new performance areas."
Actors will prepare real meals for the characters to enjoy, which involved additional practice in Landis' kitchen to learn proper technique. The audience will meet three groups of characters throughout the performance, each with their own personalities.
The UCCS Theatre Company produces multiple productions throughout the academic year, with one show each spring based out of the Dusty Loo Bon Vivant Theater, the home for Theatreworks. The other Theatre Company productions use the Osborne Studio Theater, the dedicated performance space for students.
"The Art of Dining" runs through Thursday through Sunday on March 14-17 and 21-24. Tickets are free for students and $15 for the general public, and can be purchased online, but phone at (719) 255-3232, and in person at the UCCS Presents Box Office within the Ent Center.