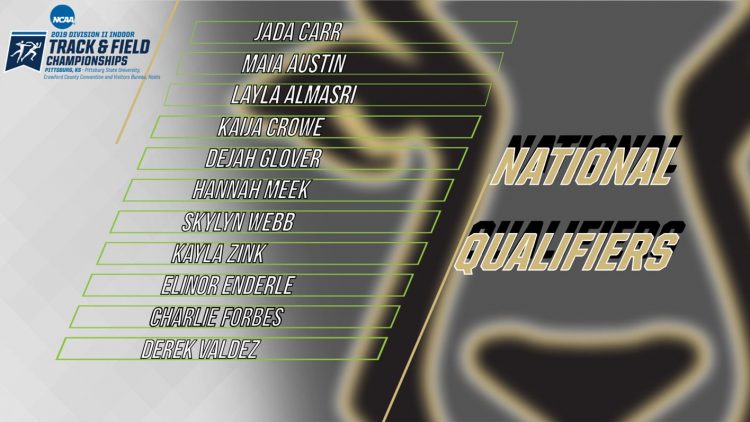 Eleven student-athletes will represent UCCS and compete for national titles at the 2019 NCAA Division II Indoor Track & Field Championships March 8-9 in Pittsburg, Kansas. Nine women and two men will compete at the Robert W. Plaster Center at Pittsburg State University.
The Mountain Lion women will be represented in six events, and four of the nine will be at the national indoor championships for the second straight year. The distance medley relay team of Layla Almasri, Maia Austin, Dejah Glover and Skylyn Webb enter with the No. 10 time in the nation at 11 minutes, 41.65 seconds. Webb will also compete in the 800-meter run and go for her second overall national title and first at the indoor championships. She was the national runner of the week Feb. 5 after she broke the Division II indoor record.
Kayla Zink returns to the championships with the nation's ninth-best time in the 60-meter dash with 7.54 seconds. Kaija Crowe will compete in two events at the championships. She has the fourth-best mark in the pentathlon this season with 3,770 points and is tied for seventh in the long jump with 19 feet, 5 ½ inches. She will be joined in the long jump by teammates Hannah Meek and Jada Carr. Meek will also be in two events as a triple jump competitor. Ellie Enderle will also compete for the Mountain Lions.
Derek Valdez and Charlie Forbes will represent the men's team in two events. Valdez qualified with the fourth-best national mark in the high jump this season at 7-1 ½ at the RMAC Championships Forbes has won the 60-meter hurdles in each of his four competitions this season, including the conference championships, and has Division II's eighth-best time at an even eight seconds.
The top eight finishers in each event earn First Team All-America honors. Second Team All-America honors are presented to relay teams that finish ninth and 10th, and individual finishers who finish ninth through 12th.
The NCAA will provide live video and live results from both days of the championships.
UCCS schedule at 2019 NCAA Division II Indoor Track & Field Championships (all times MDT)
March 8
1:45 p.m. – Men's 60-meter hurdles preliminaries (Forbes)
2:15 p.m. – Women's 60-meter dash preliminaries (Zink)
2:40 p.m. – Men's high jump (Valdez)
3:40 p.m. – Women's 800-meter run preliminaries (Webb)
3:50 p.m. – Women's long jump (Crowe, Meek, Carr)
5:40 p.m. – Women's distance medley relay (Almasri, Austin, Glover, Webb)
March 9
9 a.m. – Women's pentathlon (Crowe)
4:10 p.m. – Men's 60-meter hurdles finals (Forbes)
4:20 p.m. – Women's 60-meter dash finals (Zink)
4:55 p.m. – Women's triple jump (Meek)
5:25 p.m. – Women's 800-meter run finals (Webb)