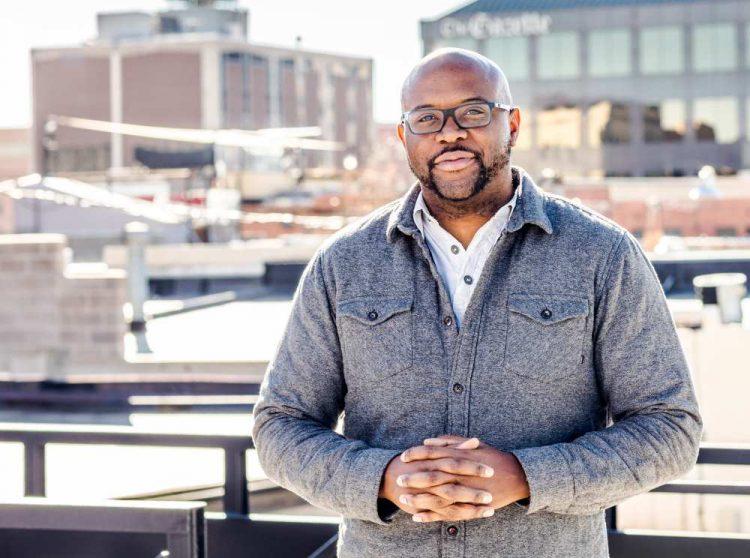 Award-winning playwright Idris Goodwin, author of the new production "American Prom" at Theatreworks, will discuss hip hop, poetry and other forms of dramatic verse in a Prologue series event Jan. 27. Kevin Landis, associate professor and program director of Theatre and Dance, will moderate the discussion with Goodwin and other members of the Colorado Springs poetry community at 2:30 p.m. in the Dusty Loo Bon Vivant Theater in the Ent Center for the Arts.
Goodwin's latest production focuses on the story of high school students Jimmy, who is white, and Kia, who is black, who want to go to the prom together in small-town Principal. The town has been holding racially segregated proms for decades, and the coming-of-age story between Kia and Jimmy features music, rhymes and beats.
Goodwin is the producing artistic director of Stage One Family Theatre in Louisville, Kentucky. "American Prom" is one of six plays opening this month for Goodwin, who started working on the play when he was living in Colorado Springs. He is the recipient of the InterAct Theater's 20/20 Prize and the Playwright's Center's McKnight Fellowship. He is a member of The Dramatists Guild and serves on the boards of TYA/USA and The Children's Theatre Foundation of America.
Prologue is free, but registration is requested. Tickets for "American Prom" are separate and can be purchased through the UCCS Presents Box Office. "American Prom" opens Jan. 24 and runs through Feb. 10.
Prologue is sponsored by the Chancellor's Office, Theatreworks, the Department of Visual and Performing Arts, and the College of Letters, Arts and Sciences. The series consists of theatre talks, performances and hands-on workshops with national theater leaders throughout the academic year.