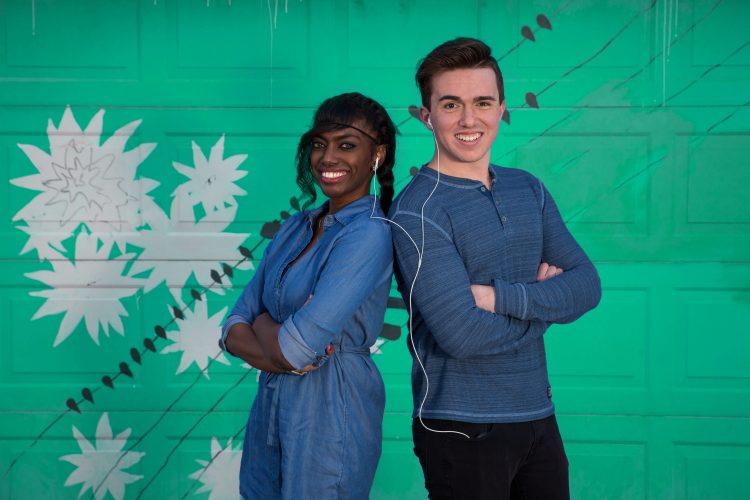 Theatreworks starts the new year with the world premiere of "American Prom," a new play commissioned from award-winning playwright and poet Idris Goodwin. The play opens Jan. 24 and runs through Feb. 10 at the Dusty Loo Bon Vivant Theater, located in the Ent Center for the Arts on the UCCS campus.
"I wanted to write this play about a young man and a young woman who decide to create their own space," Goodwin said. "The play really looks at how previous generations pass down their biases onto the next, and how the next generation reenacts that divisive behavior, but also how they throw off the shackles."
The play is set in a small town in middle America called Principal and tells the story of teenaged best friends Jimmy T. and Kia B. Jimmy wants to take Kia to prom, but it's complicated. Jimmy is white and Kia is black, and Principal has been holding racially segregated proms for decades. In this contemporary coming of age story, filled with music and magic, rhymes and beats, Jimmy and Kia work to hold fast to their friendship. With a little help from a musical superstar, they both fight to envision a different future for themselves and their town.
"American Prom" is directed by Lisa Marie Rollins, who has worked with Goodwin in the past as assistant director and dramaturg for a production of Goodwin's play "Blackademics" with Crowded Fire Theater in San Francisco. Rollins, who is a Sundance Institute Theatre Lab Fellow (Directing) and a Directors Lab West member, is particularly invested in developing new plays.
"When this opportunity came up—the chance not only to direct but to be part of the developmental process (which is my jam)—it appealed to my background as a dramaturg and my commitment to the kind of work that I want to see on the stage," Rollins said. "One of the reasons I am so attracted to new plays is because of the possibility. There is the chance to see something outside of the kinds of stereotypes that we've seen over and over. This play in particular is about speaking the unspoken, and so for me, it does that work. There's something for everybody in this piece. I think the play is going to let everybody have an experience together."
Rollins is joined by a creative team including Lawrence E. Moten III (Scenic Designer), Mike Wood (Lighting Designer), Sarah Sheppard Shaver (Costume Designer) and Robert "RJ" Jackson (Composer/Sound Designer). The cast features Mark Autry (Jimmy Trammel Jr.) and Ilaseia Gray (Kia Bradford) as the two teenage leads. They are joined by Marisa Dannielle Hebert (Regina B./Pearl/Townspeople), Dustin Bronson (Jimmy T. Sr./Townspeople), and Tre'Vonne Bell (Iz Icon/Townspeople).
Tickets are now on sale at theatreworksCS.org or through the box office at (719) 255-3232. "American Prom" runs Jan. 24–Feb. 10 at the Dusty Loo Bon Vivant Theater at UCCS.
ASSOCIATED EVENTS
On Jan. 27, before the Sunday matinee, "American Prom" playwright Idris Goodwin, local playwright Ashley Cornelius and other members of the Colorado Springs poetry world will speak about the power of poetry. The conversation is part of the annual Prologue lecture series, co-presented by Theatreworks and the UCCS Theatre and Dance Program.
Before the Sunday matinee on Feb. 10, there will be a town hall discussion on immigration and the arts with María López De León (Executive Director, National Association of Latino Arts and Cultures), Chay Yew (Artistic Director, Victory Gardens Theatre), Stephen Shu (UCCS Women's and Ethnic Studies Professor).
Theatreworks will host post-show conversations after the Saturday and Sunday matinée performances. There will also be pre-show Coffee & Cocoa Chats with scholars in the lobby before Thursday performances.