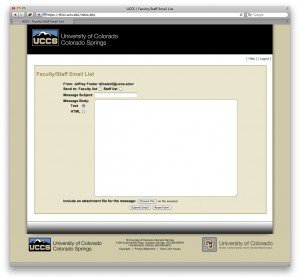 The Information Technology Department will unveil a new way for faculty and staff members to post to faculty and staff lists, commonly known as faculty-l and staff-l, July 18.
Announced in an April 15 memo from Chancellor Pam Shockley-Zalabak, the changes come at the recommendation of task forces who studied the use of the faculty and staff email lists. Those recommendations were endorsed by faculty and staff governance groups.
The task forces recommended that the lists be used exclusively for UCCS business, that a reply all function be eliminated, and that a website be created to help users understand what is appropriate to send to faculty and staff lists.
To use the faculty and staff lists, users must now undertake the following steps.
Using a web browser such as Internet Explorer, Safari or Firefox, visit https://fslist.uccs.edu. Campus community members will use their computer log in and password and will be given the option to post to either the faculty or staff list.
Users must read and accept the terms of the campus responsible computing use policy and agree that their email is not abusive and cannot serve to harass, intimidate, threaten or discriminate.
Users can then paste the content of their message into a text box before sending and use various buttons to create text effects such as boldface or italics or to vary the size of text. Users will also have the ability to attach small, commonly used file types to the email.
To see the April 15 announcement, visit https://communique.uccs.edu/?p=3507. To see the July 15 Chancellor memo, visit https://communique.uccs.edu/?p=4141.
For questions about the new system or to join the faculty and staff lists, contact the IT Help Desk, 255-3536.