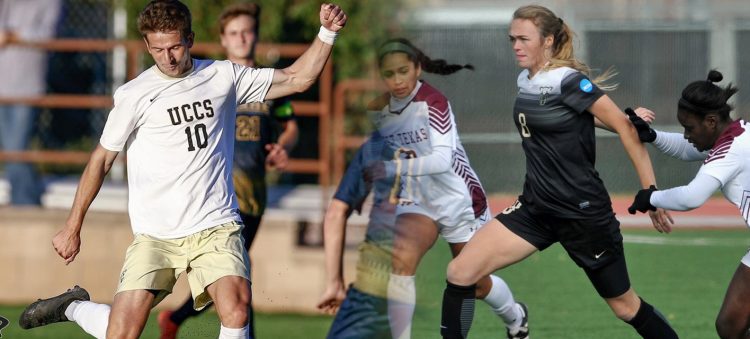 Senior Anna Gregg of women's soccer earned first team honors from two organizations and junior Alex VonHolle of men's soccer earned a second team award in All-America soccer announcements Nov. 28.
Gregg earned first team accolades from the Division II Conference Commissioners Association and the United Soccer Coaches. She proved to be one of the offensive leaders on the highest scoring offense in the Rocky Mountain Athletic Conference and the South Central Region. She led the team with 37 points off a team-high 15 goals and five assists, and set new program records in most goals and points in a single season. Gregg scored a program single-game record four consecutive goals against Black Hills State University Oct. 25. The midfielder topped the RMAC leader boards in shots, goals, and points and earned RMAC Co-Player of the Year and D2CCA South Central Region Player of the Year honors. Gregg was also named the RMAC Academic Player of the Year, RMAC All-Academic First Team, RMAC All-Tournament team, and was a two-time RMAC Offensive Player of the Week.
The Mountain Lions finished the 2018 season with a 16-3-3 overall record and a second round appearance in the NCAA Division II National Tournament.
VonHolle earned a second team non from the D2CCA and is the first men's soccer All-American since 2014. He scored 14 goals and registered nine assists for 37 points on the season. His 37 points and nine assists set new single season program records. A starter in all 19 games for the Mountain Lions, VonHolle helped UCCS reach the RMAC semifinals with two goals and one assist in the RMAC quarterfinal against Regis. Within the RMAC, he tied for second in goals and assists, and finished alone in second for points and game-winning goals (5). He also earned recognition on the D2CCA All-South Central Region First Team, the All-RMAC First Team, RMAC All-Academic First Team and RMAC All-Tournament Team.
The Mountain Lion men closed out its season in the RMAC semifinals against Colorado School of Mines. UCCS finished the regular season 10-5-3 in its best finish since 2016.
–by Eric Mason, UCCS Athletics